The Kansas City Chiefs were fairly active on the first day in free agency and most of the moves received rave reviews. But the first signing that was reported has been completely overlooked.
Going into this offseason, it was clear that outside linebacker depth needed to be among the priorities for John Dorsey and Andy Reid. Bob Sutton's defense is predicated upon a dominant pass rush. When injuries kept Tamba Hali and Justin Houston out of the game late last season and in the playoffs, the entire team suffered.
Dee Ford has shown flashes of dominance, but when called upon to be the primary pass rusher, he was easily contained. Two of the other backup pass rushers were free agents. Frank Zombo was re-signed, largely for special teams. Dezman Moses, a restricted free agent, was not tendered.  The Chiefs needed to add a bargain pass rusher in free agency and / or the draft.
Now that Justin Houston's season is in question, the need for depth at the position is that much more critical.
Enter Jonathan Massaquoi, the Chiefs free agent signing that everyone seems to have forgotten.  A 6'2 and 264 pound former fifth round pick for the Atlanta Falcons. He had six sacks in the 2013-2014 seasons as a part time player for Atlanta. He was claimed on waivers by the Titans, but failed to make the roster prior to the 2015 season. Jonathan is a native of Liberia (like Tamba Hali) and the cousin of former NFL tight end Visanthe Shiancoe and former NFL wide receiver Mohammed Massaquoi.
Here are highlights from one game in 2013 showing some of his pass rush ability. (Note: he wore No. 96 in 2013 and No. 94 after that)
I watched three games from his 2014 season when Atlanta was a six win team. The Falcons were 30th in the league with only 22 sacks that year, so Massaquoi wasn't on a defense anywhere near the level of the Chiefs. So, why did they cut him? It's a bit of a mystery, but he wasn't happy with his role, had an injury and didn't mesh with the coaching staff during a change. Whatever happened in Atlanta, fans agree he was a guy that showed promise, so he's an intriguing under-the-radar signing for the Chiefs. For this reason, it's worth looking back at his game film from his last significant action.
Week 2 vs Cincinnati (2014):
Lines up primarily at ROLB (across from the LT)

Long and lanky, crazy long arms to keep blockers away from his body

Started the game, was in mostly on early downs, rotating throughout

Can set the edge vs the run

Drops into zone coverage occasionally, didn't look bad doing so

Nice play, sheds a block and gets to the RB in an instant at 8:29
Active hands

Good quickness

Can chase sideline to sideline, shows decent speed and motor

Good closing burst when chasing down the ballcarrier or getting off the line after the QB
Week 6 vs Chicago (2014):
Disruptive in the run game in second series, shoots gaps well
Sack at 8:08 of the first quarter, quick around the edge, got leverage on the RT

Blockers rarely get a clean shot at him, can "get skinny" and keep himself clean in traffic

Good pass rush snap at 5:28, gets pressure in QBs face by looping to the inside
Showed a very quick and effective spin move to get a QB pressure / hit and cause an incompletion at :10 in the second quarter

Dropped in coverage vs Matt Forte, incomplete pass

Nice tackle for loss, got off of his block and finished the play
Week 7 vs Baltimore
Spin move and relentless effort got a QB hit and incompletion / punt at 9:05 in the first quarter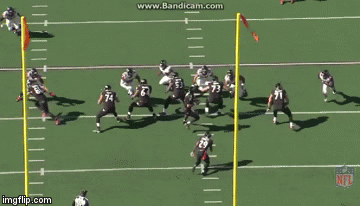 Was blocked out of a running play, but hustled 21 yards downfield to make the tackle
QB hit on a quick inside pressure. Gave a little fake to the outside and beat the LT to the inside at 1:26 in Q1
Another pressure / hit on a long pass, drew a holding penalty
Got off a block and made a solid hit for a short gain
Drew a holding penalty on a QB pressure, got the "Tamba Hali OT chokehold"
Pressure on the next play up the middle
Blew past the LT on the inside for a QB hit, caused incompletion
Dropped into coverage, avoided a block and tackled the TE for a nine yard gain
Big TFL at 10:48 in the fourth quarter
Ran down the RB for no gain, had to come across the entire formation to get to him
Had a very good, disruptive game overall, showed up consistently
How Massaquoi fits with the Chiefs
The Chiefs need competent backups for Hali and Houston. Dee Ford seems to be a pass rush specialist at this point in his career and hasn't developed the all around game. They weren't likely to be able to add a big name pass rusher given that the role would be pretty limited behind Hali, Houston and Ford.
Massaquoi doesn't have Ford's elite first step or bend around the edge. However, he does appear to be a well-rounded outside linebacker that can defend the run, cover and has some ability to get to the QB. He can hold linemen at bay with his long arms and hand technique, shed a block and make plays in the run game.
I didn't see Massaquoi getting too many opportunities to pin his ears back and get after the QB. He was often asked to drop into coverage or contain the edge. But when he did rush the QB, he was quick, showed a variety of moves (outside, inside, spin, counter, bull) and was relentless.
I could see Massaquoi in a rotation, keeping Houston and Hali fresh. I could see him being a primary backup, so that the defense doesn't miss a beat if / when one of those two miss time. He's consistently disruptive and difficult to block, and always around the ball. He also plays under control: he sets the edge, doesn't lose containment or get too far upfield.
The concerns about Jonathan's attitude and coachability will likely be answered very quickly with the staff in KC. Andy Reid's players seem to LOVE playing for him, and feel he treats them fairly. If they decide Massaquoi is worth keeping on the roster, he could be a contributor.
No contract details have been reported yet, so it's hard to tell if Massaquoi is being given a "prove it" deal, or if he's seen as part of the long term solution at OLB.  Based on what I've seen, he certainly has the ability to be the latter.