Can you smell what the Chiefs are cooking?!?! That's the sweet smell of 3-0(and hopefully 4-0)
That's right ladies and germs, the Chiefs have not lost a game since this weekly segment was started. Now I'm obviously not taking the credit for that because of course Kalo deserves some too, it's about 90% me and 10% Kalo. Actually he's the beer guy so it's probably more like 5% me and 95% Kalo. To summarize, next time you see Kalo be sure to thank him for being the reason the Chiefs are unbeaten(if we lose you can thank him too).
Off to the food....
Week 4 of the NFL season brings us......Chicken Wings!
THERE AIN'T NO THANG LIKE A CHICKEN WANG
I don't know anyone that doesn't like chicken wings. There may be varying opinions on what they should taste like but the actual food item is perfect for any football party or tailgate and lets be honest there is really no such thing as a bad chicken wing. I like them baked, I like them grilled and, like I said in week one, I love them fried.
While chicken wings are a great party food they can be a hazard. You see chicken wings inconveniently have a lot of bones, bones that can get caught in your throat and make you choke or worse. Really what was God thinking? "I'm going to make chicken wings ridiculously delicious but just for fun I'm going to out a ton of little bones and cartiledge in them.". This is definitely a hazard because all you want to do is down them as fast as you can and let's be honest you're usually enjoying a beverage that's affecting your judgement. So because my number one priority is that you all are partying and gating safely I bring you another safety video....
Deboning Wings
So have you all got de-boning down pat? Ya, me either....
Let's Cook!
CRISPY BAKED CHICKEN WING

This first recipe is a more classic baked wing recipe that I nabbed a few years ago from one of my fave magazines. Nothing fancy, just simple and delicious. The great thing about a simple wing and simple recipe is you can always play with it and try new things or just go with it how it is.
-5 pounds chicken wings, tips removed, drumettes and flats separated
-2 tablespoons vegetable oil
-1 tablespoon kosher salt
-1/2 teaspoon freshly ground black pepper
Preheat oven to 400°. Set a wire rack inside each of 2 large rimmed baking sheets. Place all ingredients in a large bowl; toss to coat. Divide wings between prepared racks and spread out in a single layer. Bake wings until cooked through and skin is crispy, 45–50 minutes.
Now that you have a basic but great baked wing you can add whatever saunce you like to really make them your own and delicious. Here's a couple suggestions:
Buffalo Sauce
Mix 1 tablespoon of unsalted butter(melted), 1/4 teaspoon of cayenne pepper, 1/4 teaspoom of ground black pepper and 1/4 teaspoon of kosher salt in a medium bowl; let stand for 5 minutes. Whisk in 1/4 cup of hot pepper sauce; keep warm. DO AHEAD: Can be made 1 week ahead. Let cool completely; cover and chill. Rewarm before using.
Ginger Soy Glaze
Bring 1/4 cup of honey, 2 tablespoons of soy sauce, 3 cloves of garlic(crushed), 1 small piece of ginger(peeled and sliced) and 1/4 cup water to a boil in a small saucepan, stirring to dissolve honey. Reduce heat to low; simmer, stirring occasionally, until reduced to 1/4 cup, 7–8 minutes. Strain into a medium bowl. Let sit for 15 minutes to thicken slightly. DO AHEAD: Can be made 5 days ahead. Cover; chill. Rewarm before using.
SITCKY LIME GRILLED CHICKEN WINGS
This recipe is a great grilled option. The sauce is a little off the beaten path but trust me, it's delicious.
2/3 cup Frank's Red Hot original
1/4 cup freshly squeezed lime juice
zest of 2 limes
3 tablespoons maple syrup
1/4 cup melted unsalted butter
2 cloves of garlic, skins removed and crushed
1 teaspoon cayenne pepper
kosher salt and fresh ground black pepper
3 pounds of chicken wings (20-25 wings) wash and pat dry
oil, for the grill

1.Heat the grill to medium high heat (400F degrees). Season the wings with a generous amount of coarse salt & 1/2 teaspoon of pepper. Rub the grill grates with oil so the wings do not stick. Add the wings to the grill and cover. Flip every couple of minutes or so, until they're slightly charred and crisp and cooked through, roughly 20 minutes. Keep an eye for flare-ups and burning, turning down the heat or moving the wings off the hot spot until the flares are under control.
2.Meanwhile, combine the lime juice, lime zest, hot sauce, maple syrup, butter, garlic and cayenne pepper in a large bowl. Cover and refrigerate. Before the wings are done, transfer the sauce to a medium pan over medium low and heat the sauce.
3.Remove the wings from the grill and transfer to a large bowl. Pour the sauce over top and stir to combine
There you have it! A couple of delicious wing options!
Beer For Every Occassion With KaloPhoenix
Bell's Two Hearted Ale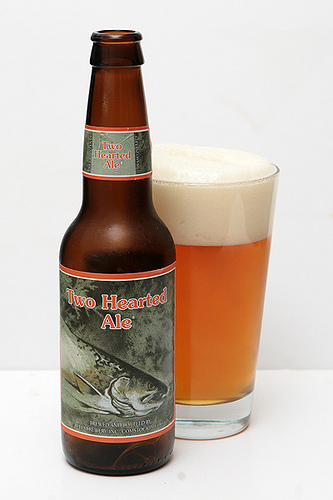 I LOVE THIS IPA! Strong fruity hop aroma will drive away those non-hop-heads in a hurry. An initial inrush of piney hops fades into a delicious balance of bready malt and fruity hops upon drinking, and finishes very crisp and dry. Because of all these flavors in the beer, it's easy to pair with almost any style of wing sauce, from mild all the way to hot. It's hard to compare to other IPA's due to its complexity, so if you're down with hoppy beers, this is a must try.

Rothaus Tannenzäpfle


Shout out to my buddy AverageGatsby for bringing back this gem from Germany for me! That's right, US readers, I put a beer on here that isn't available in America. This beer is light, with grassy hops and (although you couldn't tell from the color) a solid roasted malt flavor. When you drink it, there is a surprising amount of German hops in the beer, but not in the typical "hop bomb" way that most think of when they read that. It's light enough to drink all day, yet complex enough to really enjoy.
Know Thine Enemy- New York Giants
While some cities require quite the research to find a food affiliated with their city, New York is quite the opposite. While I could have gone with the classic and obvious, cheesecake or pizza I'm going off the beaten path to Harlem for Fried Chicken and Waffles. Fried Chicken and Waffles originated at Well's Restaurant in Harlem in the 40s where the busiest time of day was after midnight and they couldn't whether to serve late supper or early breakfast. The result? Delicious fried chicken served with a side of waffles. Sweet and savory at it's finest.
There you have it, week 4 in the books. This week give me some of your best chicken wings ideas. What your favorite sauce or recipe? What do you like to dip them in? Do yo remember what Jordan(I think that was her name) said about de-boning?
Go Chiefs!
GB