And with the 38th pick in the 2008 Arrowhead Pride Community Mock Draft, the Baltimore Ravens select: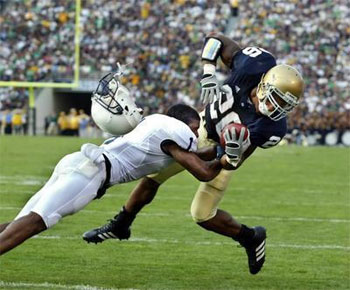 Penn State CB Justin King
Ben with the pick:
Has great triangle numbers (6'0, 192, 4.31)and has probably the most potential of any of the corners in the draft. Has played against elite wideouts in the big ten, and has a good 3 years of experience. Is extremely fluid as a player but is still raw and baltimore is the perfect place where he can sit under Rolle and play nickel spots and eventually take over.
1. Miami Dolphins - QB Matt Ryan
2. St. Louis Rams - OT Jake Long
3. Atlanta Falcons - DT Glenn Dorsey
4. Oakland Raiders - DE Chris Long
5. Kansas City Chiefs - DT Sedrick Ellis
6. New York Jets - RB Darren McFadden
7. New England Patriots - DL Vernon Gholston
8. Baltimore Ravens - OT Ryan Clady
9. Cincinnati Bengals - OLB Keith Rivers
10. New Orleans Saints - CB Mike Jenkins
11. Buffalo Bills - CB Leodis McKelvin
12. Denver Broncos - OT Chris Williams
13. Carolina Panthers - DE Derrick Harvey
14. Chicago Bears - RB Rashard Mendenhall
15. Detroit Lions - OT Jeff Otah
16. Arizona Cardinals - CB Dominique Rodgers-Cromartie
17. Minnesota Vikings - DE Philip Merling
18. Houston Texans - OG Branden Albert
19. Philadelphia Eagles - FS Kenny Phillips
20. Tampa Bay Buccaneers - WR/RS DeSean Jackson
21. Washington Redskins - WR Limas Sweed
22. Dallas Cowboys - RB Felix Jones
23. Pittsburgh Steelers - OL Gosder Cherilus
24. Tennessee Titans - WR Devin Thomas
25. Seattle Seahawks - WR Malcolm Kelly
26. Jacksonville Jaguars - DE Lawrence Jackson
27. San Diego Chargers - RB Jonathan Stewart
28. Dallas Cowboys - CB Aqib Talib
29. San Francisco 49ers - WR Mario Manningham
30. Green Bay Packers - CB Brandon Flowers
31. New York Giants - LB Jerod Mayo
32. Miami Dolphins - OT Carl Nicks
33. St. Louis Rams - CB Antoine Cason
34. Atlanta Falcons - QB Brian Brohm
35. Kansas City Chiefs - WR Jordy Nelson
36. New York Jets - DE Quentin Groves
37. Atlanta Falcons - OT Sam Baker
38. Baltimore Ravens - CB Justin King
On the clock: Cincinnati Bengals (thatswhatshesaid)
Ideal but not beholden to it schedule for today: Bengals, Saints (skibum 1537) and Bills (MAWK)