And with the #8 overall pick in the 2008 Arrowhead Pride Community Mock Draft, the Baltimore Ravens select: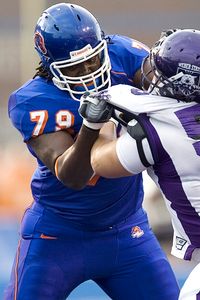 Boise State OT Ryan Clady
Ben with the pick.
Passing on a true LT when you dont have one is just as bad as passing on a franchise QB if you dont have one. I cant see Ozzie Newsome not making this pick, Ogden has told the organization to go along with the season as if hes not coming back and even if he did he will only play his usual 8 games because of a chronic to injury.
He has everything you look for in a LT and will allow the Ravens to use Chris Chester as their swing man inside and use Adam Terry as the swing man for the tackles. Depth on the OL is needed as the ravens saw last year starting 3 rookies on the line, all of which played better then expected and with this pick could have a dominant line in the next 3 years which will look like:
LT-Ryan Clady LG-Ben Grubbs C-Jason Brown RG-Marshall Yanda RT-Jared Gaither
This moves Grubbs to his natural position of LG from RG, moves brown back to his collegiate position of C for RG, and allows Yanda to move to RG from RT which most scouts and analysts last year beleived he would fare better there anyway.
1. Miami Dolphins - QB Matt Ryan
2. St. Louis Rams - OT Jake Long
3. Atlanta Falcons - DT Glenn Dorsey
4. Oakland Raiders - DE Chris Long
5. Kansas City Chiefs - DT Sedrick Ellis
6. New York Jets - RB Darren McFadden
7. New England Patriots - DL Vernon Gholston
8. Baltimore Ravens - OT Ryan Clady
On the clock: Cincinnati Bengals (thatswhatshesaid)
Up tomorrow: skibum 1537, MAWK and styg50