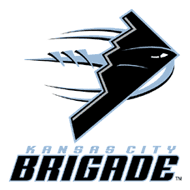 More football! Well I think "football" is more appropriate, as in Arena League Football. As I'm listening to the radio this morning, I hear that the Kansas City Brigade is having mega star Uncle Rico from Napoleon Dynamite appear at this Friday's game against the Colorado Crush. Now, hold on just a second. Back it up and click on that Brigade link. That could be the worst looking splash page advertisement I've seen for a "professional" sports team.
I've never been to an Arena League game and only barely seen one on television. Since I'm going crazy with Trent Green rumors, LJ rumors and who in the hell we're going to draft, lets take a break for a few minutes and give us your thoughts on the Kansas City Brigade or any Arena team. I thought I knew a girl who was a cheerleader for the Brigade but a quick look at their squad photo shows she isn't one. The cheerleaders may be the best thing about this whole league at the moment.
Ever been to a game? Love the AFL? Hate it? I'd be curious to know everyone's thoughts.