All right. This fanpost aint gonna be pretty. I want to call out all football fans.
DIE HARD KNOWLEDGEABLE FOOTBALL FANS.
Before I begin into my fanpost, let me make one thing straight; emotions are worn by women (wink) and this is strictly a football fanpost. Let all the kool-aid and homerism stay wherever you keep it but keep it away from here. I won't get too specific with the individual players the way I'd like to but it is what it is. Read onnnn
Now lets talk about our team KANSAS CITY CHIEFS. I've been following football for a little over a decade and I've grown to dislike PFF (completely disses Charles) and all these other dumb websites that will analyze if there is a ketchup stain on a jersey helmet that caused the coach to call the wrong play that caused the QB to throw it to the waterboy because the ketchup glare ... yea you get the point. Either you play or you suck son.
Now something I've noticed since I've been on AP which is a long time by the way. Dont comment too much but just chill and spectate. I've began to question myself at times on what I think and what's reality. I got dumb.. smarter.. er... I love AP!!!!!!!
Okay enough of the sob story. Lets get to my main point. Chiefs will go 14-4 at WORST. Truly an elite team in the making of our very eyes. And before you say oh your homerism is there blah blah... no. heres why
2010 was not a fluke year AP. We all saw it but it was premature and it was wayy premature. I said that year that 2013 would be the year because it would give the rebuilding stages enough ammo to develop and become stars. Guess what? It happened!!
SIDE NOTE: KC is not the ideally built team that I would have built but it is the 2nd most ideal way. Football games are won and lost in the trenches AKA the UGLY mugs. KC really isn't to be honest and that is what is going to prevent them from going to that next level. Inside to Outside rather than Outside to Inside. The unique thing about the Chiefs especially on Defense is that KC is developing that Inside portion by finding Houston and Poe. We have enough pass rushers to dominate at the LOS in the REGULAR SEASON. Lets review: Poe,(who will only get better thanks to Houston and Hali), DJ ( Man he needs to blitz sooo much more), Berry, Robinson, Houston, and Hali. Houston, Hali, and Poe are the driving force because man if one of them is on one on one they are all football fast. They take angles and their pursuit is elite. Think Ware, Woodley, Ratliff but on one line in those terms. That is adequate to make some differences back there. Jackson is too slow but he does his job extremely well. He prevents QB's from sidelining or stepping up. He's a truck. Now our secondary is a strength and I won't get into it because it is self explanatory .... for now.
Flowers is our best player on the Chiefs depending on who you ask (ask me) with Charles as 1a or 1b.
What's it gonna take to go to the next level: ERIC BERRY
He is the best safety I've seen play (I know he aint there yet), yes he will be better than ED Reed when hes done (Pretend this is the new EB and forget everything he did up until this point) . I have enough confidence in him and I don't mind him at SS persay but he shouldnt be limited to one position. He has Ed Reed Range, Troy P Instincts with Brian Dawkins type hitting. He's so awesome to watch man. He's usually in position and his presence is unnerving. He's second to none. He has elite athleticism, extremely gifted, and he is probably the most athletic safety currently in terms of closing speed. He tackles like a beast. He just has to satisfy all you pick hungry bums (I am one too) but I blame that on playing bad Qbs in college to having non-competent coaching staff and losing a lot of games. Aside from 2010, he hasnt played with too much leads and in 2010 he was a rookie; a time your suppose to suck such as getting a new job.
I just want to say personally to EB that if he disappoint me anytime this year by quitting on the team I'll never endorse this guy again. He's literally the Lebron James of safeties. Here's to EB locking fools down. Before I stop talking about him, I will say that he needs to start as Brian Dawkins said; "this is a no fly zone". I want him to take kill shots over any tight end or receiver coming over the middle. Fine or no fine just a clean hit is all I'd ask. Reed aint known for killing receivers and he needs to learn to ball-hawk like Reed. Watch tape on Ed Reed EB and you'll be alright. EB is the guy over these next three years that will be the best person on this team. Book it.
On Offense there's really no way to defend the Chiefs. LOL. Seriously though, Charles must be the driving force; too soft, run the ball; too stacked, lob it to Baldwin. Yes Baldwin. I really don't take this kid too serious by the way. Seems too much of a knucklehead but you know what... I love it in a WR. Me first me first ME FIRST is how some players make it as WR's. If you don't catch, you don't play/ eat.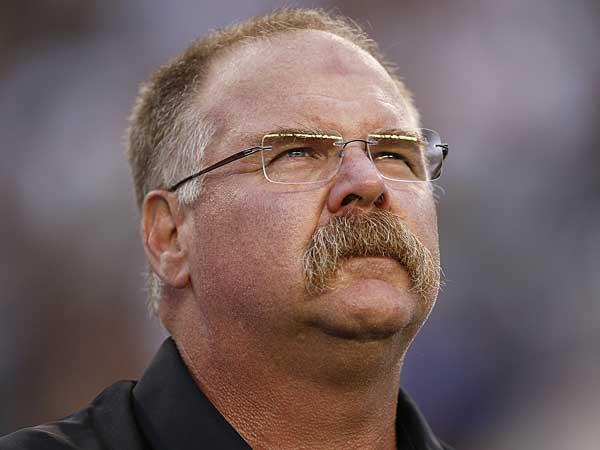 Jonathan Baldwin is going to have to beat one on ones but AP He's 6'4 and a hlf. UMMMMM Yes I want that JB! No DB can guard him unless I dont know your really good and textbook. He's our Eric Berry on offense. If he can tap into that potential man oh man. Charles is free, Bowe is given one on one more, umm dumpoffs to Charles, Fades to JB, Deep posts routes going to any receiver especially JB. Posts routes work best with big frame or speedy receivers because it's a box out, post up. He could kill Single High safety defenses.
MCCluster I ll leave it to Reid because I know he can be deadly and he will suprise a lot of people.
Oline is serviceable.
Coaching Staff- Top notch. Really who is better than AR especially our dragging offense over these past few years. At least I know he tried to use the MESS OUT OF DESEAN JACKSON. Literally he ran plenty of Deep Post, fly patterns, outs, and ins. Comon I know you guys remember some of the deep bombs he caught. IT WAS A LOT AND IT WAS ALL UNDER AR. He will do the same with ONE: J Baldwin. TWO: J Charles. Dont let AR fool you into thinking he is not a quick strike type of guy. His offenses are high powered, high octane, high flying and he will bunch you one instant and spread you out the next. (ILL aint sound right) .
His screen game is A++
Last but not least and I ll end with this AP if you disagree. At least AR may not know a thing about Defense, I trust our defensive talent to at least be upper echelon no matter who is coaching it save Romeo. I live in Philly and have been for awhile so I've seen Philly games as much as Chiefs games. He knows offense and he gets bone headed at times (throw while winning by a margin, too many deep shots, play action at the wrong time, terrible clock management) but we are in safe hands. Like Pinkston lasted in his offense and he was successful then. He will attack defenses. I've seen him attack the best players on a team defense and he don't care. Remember the Pierce isolation he called against the NYG with Westbrook a few years back for the game winner?
In Andy Reid I trust. Yessssssss. 14-4 Multiple Playoff wins this year book it AP. How do you feel about the Chiefs from a football standpoint? I'm so confident in the Chiefs this year it is oozing out of me. Lets go Chiefs.
http://www.youtube.com/watch?v=cCuCZKSmr08
Get this back from him lol