Lamar Hunt:
The man who changed American sports forever
"Lamar Hunt was a founding father of modern professional sports and a tremendous sports visionary and leader. He always led with vision, tenacity and humility." - Former NFL Commissioner Paul Tagliabue (Zurga).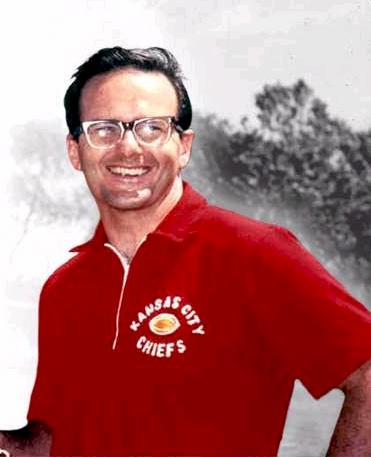 Lamar Hunt son of legendary oil man H.L. Hunt was born in 1932 (Sapp). Even as a child he was passionate about sports. He was awarded the nick name "games" as a kid for his passion for sports (Sapp). That trend continued as Lamar Hunt grew older and revolutionized many different American sports including football, soccer, tennis, and basketball. He has been rewarded for all of his hard work by being inducted into eleven different halls of fame and winning eleven different championships in five different professional leagues (Sapp). Although he made many impacts in different sports leagues his biggest was in the National Football League.
The National Football League would not be where it is today without Lamar. His visions have affected the league in so many different ways. He began at the ripe age of twenty six. Lamar was interested in purchasing an expansion team called the Chicago Cardinals (Sapp). Luckily for us here in Kansas City his bid was denied (Sapp). Being a huge believer in the game and its ability to be prosperous in the United States he pleaded to them to expand. Unfortunately he was denied at every turn to get into the NFL so the insistent Hunt decided he wanted to create his own league. He contacted a Houston oilman named Bud Adams who was also interested in the Chicago Cardinals franchise to see if he would be interested in such a business venture (Sapp). Mr. Hunt and Mr. Adams found six other investors and created the American Football League in 1960 (Sapp). These founders made up what was called by the media the "Foolish Club" (Sapp). They were dubbed this because no one ever thought the American Football League could ever stand up to the mighty and longstanding National Football League. Lamar knew this and that he would have to do things differently to stand out from the NFL. He did things like putting the names on the back of jerseys, creating the two point conversion, using brightly colored uniforms, and painting the end zones (Sapp). In the early years of the National Football League teams were all very condensed up in the Northeast. Roger Goodell current NFL commissioner said "His vision transformed pro football and helped turn a regional sport into a national passion" (Zurga). Mr. Hunt being a resident of Dallas Texas and seeing all of the possibilities of a market for expansion had many of the American Football League teams spread throughout the country. He knew the market for football in Texas and wanted to bring a franchise to his town. Thus the Dallas Texans were born and started play in the American Football League in 1960 (Sapp). Unfortunately, the franchise was not the hit that he had hoped. At first all around the AFL the crowds were sparse. In fact after three years in the league the Texans finally won the AFL title (Sapp). The Texans won a championship but lost an estimated $1 million in each of its three years (Forbes). Asked how his son could sustain such losses, H.L. Hunt smiled and told a reporter, "He's got another 180 years to go" (Forbes). Lamar had eventually decided to move the Texans to Kansas City and became the Chiefs. To this day they have thrived, made many impacts throughout the community, and have been a role model organization in the NFL. Hunt was also an enormous factor in advocating the hiring of African American players, scouts, and coaches. In fact, he hired the first full time African American scout Lloyd Wells (Sapp). Not to mention he had the first African American starter at middle linebacker in Willie Lanier who later was inducted into the Pro Football Hall of Fame (Sapp). Another interesting thing to think about is that if it wasn't for Lamar Hunt, the Super Bowl wouldn't be called the Super Bowl, he actually coined that term (Sapp). Every year the winner of the American Football Conference now receives the Lamar Hunt Trophy. Here are a few quotes to show you what kind of respect he has in the National Football League. "You'd be hard-pressed to find anybody that's made a bigger contribution (to the NFL) than Lamar Hunt."- Cowboys owner Jerry Jones (Zurga). "Lamar Hunt's a pioneer and a pillar of the National Football League. He's been innovative and creative throughout all the years he's been involved. There aren't enough words to accurately describe who Lamar Hunt was and what he has meant to the NFL and to Kansas City."- Chiefs president Carl Peterson (Zurga). Hunt was extremely passionate about football but he was also an inspiring force in bringing professional levels and spreading the growth of soccer throughout the United States.
Lamar Hunt attended a World Cup match in England and was inspired to bring professional soccer to the United States ("The Legacy of Lamar Hunt"). He believed the game could be as prosperous here in the United States as it was overseas. Mr. Hunt formed the Dallas Tornado, one of the first professional soccer clubs in the U.S., and the NASL (North American Soccer League) in 1967 ("The Legacy of Lamar Hunt"). The team carried a roster of professional players transported from Europe ("The Legacy of Lamar Hunt"). When their playing days were over many of these players, such as Bobby Moffat and Kenny Cooper Sr., began second careers in coaching/conducting clinics, further spreading interest and developing talent in North Texas ("The Legacy of Lamar Hunt"). As you can see he wasn't just interested in the financial gains he was truly interested in the game and its spreading throughout the United States. The United States was awarded the 1994 World Cup. Not only was Lamar Hunt key to the bid to bring the World Cup to the U.S., but his leadership also influenced the creation of MLS ("The Legacy of Lamar Hunt"). Hunt believed in the game so much he was actually fully invested in three Major League Soccer teams: Kansas City Wizards, Columbus Crew, and Dallas Fire (Sapp). Don Garber, MLS Commissioner once said, "He was the man who invented the American Football League and coined the term Super Bowl, but when Lamar was talking about soccer there was that glint in his eye. It's just something very special and when the books are written, the book on American soccer is going to have chapters on Lamar Hunt and what he did both in the past and the present for the game here" (Zurga). He knew exactly how invested physically, financially, and mentally Lamar was in the game of soccer. You can see what respect soccer in the United States has for him. The Open Cup is the oldest cup competition in United States soccer and is among the oldest in the world ("The Legacy of Lamar Hunt"). Now take a guess of whose name is on that trophy, well of course it is the Lamar Hunt U.S. Open Cup Trophy (Sapp). Hunt was not just passionate of football and soccer he was an instrumental force in making tennis what it is today.
One of the great innovators in American sports, businessman Lamar Hunt drew on his early recollections of watching the traveling tennis pros to create World Championship Tennis in 1967 ("Lamar Hunt"). After the game went "Open" the following year, Hunt turned WCT into a unified and well organized circuit ("Lamar Hunt"). WCT lived up to its motto as "the largest promoter of professional tennis in the world" ("Lamar Hunt"). Each May through the 1970s and 1980s, the top eight players assembled in Dallas for the prestigious WCT Finals ("Lamar Hunt"). Hunt's creativity changed the way the world looked at the game. He was so instrumental in making tennis what it is today. He just knew the game hadn't been tapped in bringing sponsors in and creating it as a business and not just a game (Zurga). "Lamar once said, "Tennis can't be sold like baseball or football, which operate within a fixed time frame, you cannot predict how long a match will last. In addition no one knows whether the top players will show up for a tournament, and this can discourage television sponsorship" ("Lamar Hunt Shapes up World Championship Tennis"). This never slowed down Hunt in his belief for the game and its prosperity. After he established the World Championship Tennis he stuck a deal with ABC-TV which was a five year contract this helped solidify the World Championship Tennis Circuit ("Lamar Hunt Shapes up World Championship Tennis").This accounted for 37 weeks of professional competition (Sapp). He announced that WCT would form a network, costing $2 million, to tape and syndicate nationally a three-part program covering nearly nine months of competition ("Lamar Hunt Shapes up World Championship Tennis"). This would revolutionize the game of Tennis forever. Somehow even with all of these things going on he even found time for Basketball.
Many people don't know that Hunt was a co-founder of the Chicago Bulls. One of the NBA's marquee franchises. Here is an article that was quite astonishing and just shows you what kind of a guy Lamar was when it came to basketball. Lamar Hunt loves to play with numbers (Poenanski). The other day, for instance, Hunt took out a pad and pencil and figured out that he has seen Michael Jordan play basketball 108 times over the years (Poenanski). Hunt owns a percentage of the Chicago Bulls, he has owned a piece since the team joined the NBA in 1966, and he enjoys breezing into Chicago with his wife, Norma (Poenanski). "It's a miracle to watch him play," Hunt says, and he tells some of the miracles he has seen, like the time earlier this year against Utah when Jordan carried the Bulls, though he was wrecked with the flu (Poenanski). Hunt shakes his head, he still cannot believe the wonders of sport (Poenanski). "You know, I've never met Michael Jordan," he says suddenly. "I don't think I ever will" (Poenanski). The words are astonishing. Lamar Hunt is part-owner of the Bulls, not to mention the Chiefs and two pro soccer teams (Poenanski). He is in eleven different halls of fame. He single-handedly has changed the landscape of football, tennis, soccer, even bowling (Poenanski). He once tried to buy Alcatraz (Poenanski). He named the Super Bowl, for crying out loud. He has never met Michael Jordan (Poenanski). "Sometimes," Lamar Hunt says, "beauty is best appreciated from afar" (Poenanski).
Although he lost a dramatic battle with prostate cancer in 2006, Lamar Hunt revolutionized American Sports forever. I believe Len Dawson said it best when he said, "Lamar Hunt had a dream and, the thing is, we had dreams, too. Just imagine the number of people that he has touched because he said, 'I'm going after this dream" (Zurga). What he did for the National Football League will be what most people think about when they hear Lamar's name, but he should always be remembered for his impact on so many American sports. There are millions of people today who would not be where they are if it was not for Lamar. As well as how he has inspired and touched such a variety of sports. He may not be a president but if sports had a Mount Rushmore he would be the center piece.
Sources
Sapp, Tyke. Personal interview. 16 Feb. 2013.
"History: Overview." Thecup.us. US Cup, n.d. Web. 17 Feb. 2013.
<http://thecup.us/history/>.
"The Legacy of Lamar Hunt." Fcdallas.com. FC Dallas, n.d. Web. 17 Feb. 2013.
<http://www.fcdallas.com/club/legacy>.
Forbes, Gordon. "Hunt Quietly Made Big Noise in Football World." Usatoday.com. USA Today,
16 Dec. 2006. Web. 17 Feb. 2013. <http://usatoday30.usatoday.com/sports/football/columnist/forbes/2006-12-14-hunt_x.htm>.
"Lamar Hunt Shapes up World Championship Tennis." The Palm Beach Post [Miami] 13 Sept.
1978: n. pag. Print.
"Lamar Hunt." Tennisfame.com. International Tennis Hall of Fame, n.d. Web. 17 Feb. 2013.
<http://www.tennisfame.com/hall-of-famers/lamar-hunt>.
Posnanski, Joe. "As Lamar Hunt's Achievements Grow, so Do the Stories." Kansascity.com.
Kansas City Star, 7 Dec. 1997. Web. 17 Feb. 2013. <http://www.kansascity.com/2006/12/07/536264/as-lamar-hunts-achievements-grow.html#storylink=cpy>.
Zurga, Ed. "Chiefs Owner Lamar Hunt Dead." Usatoday.com. USA Today, 14 Dec. 2006. Web.
17 Feb. 2013. <http://usatoday30.usatoday.com/sports/football/nfl/chiefs/2006-12-14-
hunt-obit_x.htm>.
Zurga, Ed. "Lamar Hunt's Death Brings Reaction." Usatoday.com. USA Today, 14 Dec. 2006.
Web. 17 Feb. 2013. <http://usatoday30.usatoday.com/sports/football/nfl/chiefs/2006-12-
14-hunt-reax_x.htm>.