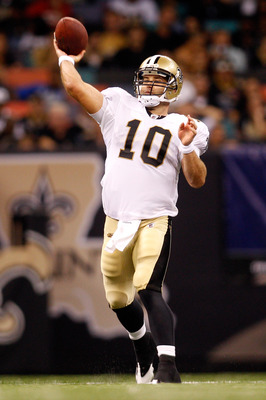 It seems this pickup has caused a stir among the faithful. The real question is what is the plan for Chase in KC?
Is he here to push Alex Smith? - No . . .
Is he the QBOTF? - Quite simply no. He is the backup for the 2013 season.
So, why did the Chiefs pick him up? First, as above, he is a quality backup for 2013. Secondly, and most importantly, he is trade bait.
Why do I say this you ask? Due to the weak QB draft and limited quality backups available (Note that even Brady Quinn is considered high on this list!), Dorsey made an investment. A simple investment for future trades or draft picks. If not this season then next off season. Some team will have an injury and feel the need to gamble on a QB and Chase is a high value unknown. He also has a relatively easy contract that is cap friendly and both Dorsey/Reid have a history of trading backups. Put that all together and I see a high probability of a short tenure.
So, if you really DON'T like him, just relax. I expect he will work out just fine as the backup in the interim. And if you really DO like him, don't get too excited . . . I'm betting he won't be around as long as you may think!
I'm interested to hear what you have to say . . . Go Chiefs!