"Look at the difference between Grigson as a first time GM with a new coach and he's got RGIII and Luck to choice from and now in Kansas City Andy Reid and John Dorsey, new coach new GM, there's no quarterback in sight....probably at that point." -NFL Network's Mike Mayock.
I get what he's saying but I don't know how Mayock can criticize this quarterback class so early. I actually hope all the experts are wrong and with this class and the quarterbacks amaze people. Part of me hopes that because of the circumstances the Chiefs find themselves in right now.
I'm not claiming to be the one with all the knowledge. I'm not an expert in evaluating talents and gauging how they would look in a NFL uniform but I just want to try and learn a little more. With Mayock spilling out his "expertise" it makes me think to myself does that mean we must settle with a known commodity in an Alex Smith or any other free agent on the list of retreads.
But what I do know is that Cassel is out of here and we can all be thankful for that.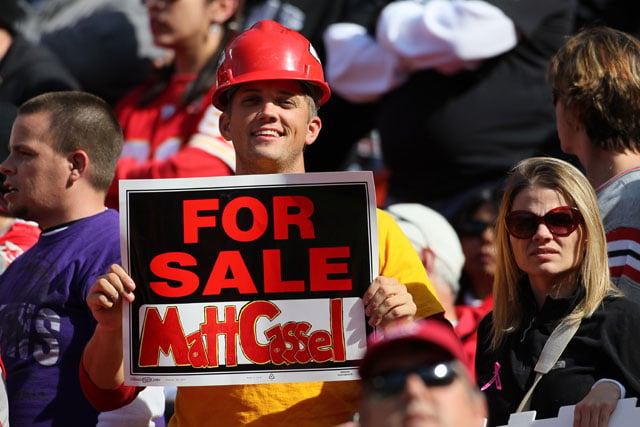 By the numbers Matt Cassel and Alex Smith are the same person on different teams. Alex was just the 2010 version of Cassel last season and teams want to jump on the hottest player at the moment. We know first hand how that worked out and both players were unproven before they were traded for. Each had that one season that sparked interest league wide and each had another solid quarterback on the roster i.e. Kaepernick and Brady
Career Stats:
GP CMP ATT CMP% YDS AVG TD LNG INT FUM RAT
Matt Cassel: 78 1,203 2,044 58.9 13,495 6.6 82 76 57 24 80.4
Alex Smith 80 1,290 2,177 59.3 14,280 6.56 81 75 63 36 79.1
The numbers don't lie and I realize I'm just providing more insight into the what I can only imagine to be the mass consensus but I can't fathom a deal like this being done by Dorsey and co. Another little tid bit of info is Matt Cassel is 30 and Alex Smith is 28. Smith isn't getting younger and how many years can he actually be productive before those 2012 numbers drop off. He'll he will be 29 before he even goes to training camp.
This begs the question whose to be under center this season. We've been arguing this point since December....or earlier. The "experts" out there are being "experts" and telling this desperate city the curse that has been casted on us since Len Dawson's glory days. I understand that the draft is a gamble for a quarterback but for a city that has seen the likes of: Todd Blackledge, Steve Bono, Elvis Grbac, Tyler Palko, Tyler Thigpen, and Brady Quinn a restoration needs to begin and I feel it has with Reid and Dorsey in house.
I'm currently sitting in the Geno Smith bandwagon because I'm tired of trades and quarterbacks that don't pan out. Before the news that Alex Smith is all but traded the bleacher report posted a story on the Chiefs interest in Alex Smith over Geno Smith. There was a poll at the end.....
Which quarterback would you rather have start for the Chiefs in 2013?
Alex Smith
70.7%
Geno Smith
19.7%
Other
9.6%
Total votes: 9,013
i for one don't even know where to begin with this poll. Interpretations can be either we still take Geno but Alex starts for the start of the season but I can't see Alex Smith willing to go to the same scenario in which he currently is at. Or we take Alex Smith take a quarterback later in the draft and wait it out for our quarterback of the future. Either way April can't come fast enough.