One of the key holes the Kansas City Chiefs need to fill this off-season is the Inside Linebacker position. Derrick Johnson is playing at a Pro Bowl level at his WILB spot, but has never had anyone near his caliber along side him in the middle of the Chiefs defense. After the passing of Jovan Belcher this hole has become even wider. Brandon Siler filled in decently for the remainder of the season, but he is viewed as more of an average player mainly suited for a backup role and is due to be a free agent. With the hiring of Bob Sutton as Defensive Coordinator the Chiefs will remain primarily a 3 - 4 defense and having 4 great linebackers will be a key factor in the overall success of his defense. Well, luckily the Chiefs already have 3 of those 4 spots filled with Derrick Johnson, Tamba Hali, and Justin Houston.
The Chiefs have many options as how to fill this hole.
First, they can look in house hoping players like Brandon Siler, Cory Greenwood, Edgar Jones, Leon Williams, or practice squad player Quan Sturdivant can take a giant leap forward and develop into starters. This is highly unlikely, but can't be completely ruled out.
Second, they have the option of free agency. This is generally the more popular approach, since the team will get a chance to bring in a guy they have already seen play at this level making it a much easier task in finding a player that is a good fit for the style of defense they want to run.
Key ILB Free Agents
Dannell Ellerbe Baltimore Ravens
Brad Jones Green Bay Packers
Brian Urlacher Chicago Bears
Larry Grant San Francisco 49ers
Rey Maualuga Cincinnati Bengals
Larry Foote Pittsburgh Steelers
Chase Blackburn New York Giants
Most of these names don't really jump out at you, well maybe Urlacher if he wasn't 35 years old and dealing with injuries the past 3 seasons. Ellerbe is a great player, but chances are he gets re-signed with Ray Lewis retiring. Jones has a history with new GM Dorsey, so he is a possibility.
Finally we get to the draft. I find this years LB class very deep. The most challenging part is finding the player who is the right fit for Sutton's scheme. I spent a good chunk of time reviewing each of the top Inside Linebacker prospects, I watched film when possible and read through a collection of scouting reviews from multiple sources to get a idea of the overall thoughts on each player. For the record I'm skipping Manti Te'o because I believe everyone has seen and heard enough about him.
Kevin Minter LSU
via lsureveille.com
Kevin Minter is the most well rounded ILB in the draft. He is a powerful and technical tackler, does a great job wrapping up and rarely misses a tackle. He sheds blocks extremely well and shows the strength to hold his ground against lead blockers. Most importantly he is a very disciplined player, who is rarely fooled. His only true weakness is at times in space, he isn't the most athletically gifted LB in this draft and can get taken advantage of by speedy TEs and RBs. It's hard to consider his coverage skills a weakness, but it is one part of his game he needs to improve when making the jump to the NFL.
Draft prediction - Late 1st round
Alec Ogletree Georgia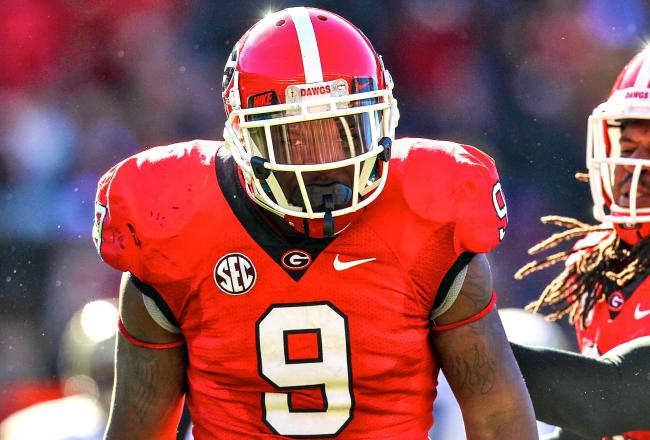 via bleacherreport.com
Ogletree is a superb athlete, once recruited as a safety he has been converted into a linebacker and has played the position at a high level. His coverage skills, ability to run and change direction are those more of a defensive back. He is not the most technically sound tackler and doesn't always wrap up, but he is a violent hitter and never shies away from contact. He lacks the overall size and strength to hold up against lead blockers, but does show the quickness and strong use of his hands to still shed blocks. Many believe he would be best served playing more of a hybrid LB/S rover style defender in the NFL.
Draft Prediction - Late 1st or early 2nd round.
Arthur Brown Kansas State
via bleacherreport.com
Brown is certainly an undersized ILB, but he doesn't play like one. He demonstrates great ability getting off blocks and filling holes. He maybe the most instinctual linebacker in the draft and has the athletic ability to run with nearly any back or receiver. Even for his size he is a excellent tackler. His coverage skills are very fluid and when he gets out of position he has the speed and acceleration to make up for it.
Draft prediction - 2nd round.
A.J. Klein Iowa State
via thegazette.com
Klein is another one of those linebackers that more then makes up for his lack of great athleticism with outstanding instincts and knowledge of the game. He is a extremely passionate football player who shows great leadership and work ethic. His coverage skills could use improvement but plays zone coverage extremely well. He has the strength and build to hold up in the middle of any type of defense.
Draft prediction - Late 2nd or early 3rd round.
Nico Johnson Alabama
via zimbio.com
Johnson's strength is his ability to defend the run. He is big, strong, and physical at the point of attack. He is a solid tackler but does have a tendency to reach at times instead of taking the extra step to get to a ball carrier. May prove to only be a 2 down linebacker in the pros as he mainly didn't play on passing downs. His coverage ability is a weakness as he isn't athletic enough to cover most backs or tight ends. But as a run filler you won't find many better.
Draft prediction - 4th or 5th round.
Kevin Reddick North Carolina
via newbernsj.com
Reddick is a very good athlete, he has the speed to make plays from sideline to sideline. He shows great ability at blitzing using his great acceleration to shoot through gaps and sack QBs before they have a chance to react. But he is a bit of a gambler and will shoot gabs when defending the run exposing running lanes at times. He is not a sure tackler and needs to improve at not only wrapping up but staying on his feet as he tends to lunge and dive at ball carriers.
Draft prediction - 3rd or 4th round.
Michael Mauti Penn State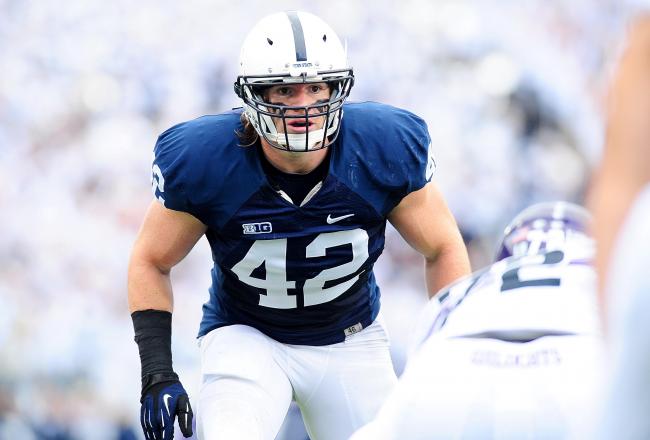 via bleacherreport.com
Maunti is a smart and hard working linebacker. He is very physical against the run and a sure tackler. He is also known for being a student of the game and a strong leader. The knock on Mauti is his injury history, he has twice torn an ACL, leaving doubts if he can stay healthy. His instincts really show up in coverage as he has a way about finding the ball, despite his knee injuries he still runs extremely well for a stout run stopping ILB.
Draft prediction - 4th round.
Other ILBs worth mention:
Tom Wort - Oklahoma
Jon Bostic - Florida
Kiko Alonso - Oregon
Chris Borland - Wisconsin
Bruce Taylor - Virginia Tech
Vince Williams - Florida State
Steve Greer - Virginia
Kenny Demens - Michigan
Keith Pough - Howard
First Fan Post sorry if anything ends up formatted weird. Anyway I'd like to hear everyone's thoughts on what we should do at linebacker.