From the FanPosts. -Joel
Good afternoon Kan-sas City! I've gotta admit, I am pretty stoked about the team the Chiefs are going to field in 2012, as are many of you. I know I should temper my expectations, because it was just one preseason game, and it was against one of the worst teams in the worst division in the NFL. But hot-damn, we dominated the Cardinals last night. And as Mitch Holthus said towards the end of the broadcast: "Just because it doesn't count doesn't mean it doesn't matter". This nails my feelings on the game last night perfectly.
All offseason long I was thinking "this is going to be a special year". Eleven or more wins looks like a real possibility. And last night just confirmed what I've been thinking all year so far: the Chiefs are going to be good. We have weapons and an Offensive Coordinator that knows how to use them. We have quietly put together a really good Offensive Line. The defense is still a major strength of this team, and looked fast and hungry last night. And this is just the beginning. Jamaal Charles and Eric Berry weren't even playing at 100% last night, even though they both made some nice plays. They're going to gain more confidence and continue to improve.
Anyways, the point of this post is that I did something I've never done before and broke down the first two drives/defenses of the first team units from my DVR recording of the game. FYI, I also broke down each of Dontari Poe's 22 snaps and will post a review after this. Mad props to guys like Kalo and Bewsaf that do this on a regular basis. It is a lot of work to rewind, slow down, and watch multiple plays over and over to look for what went right or wrong on each play. I didn't take notes on the formations, or other little intricacies, but I do point out key players of each play and talk about what they did.
So without further adieu:
FIRST OFFENSIVE DRIVE: EASING INTO THE GAME
1st PLAY (1st and 10):
Cassel stares down Dexter McCluster and hits him in stride for a gain of 7.
2nd PLAY (2nd and 3):
There's some "confusion" at the snap according to Trent Green. I watched this play several times to try and figure out what happened and did catch a couple of interesting things. Pre-snap, Cassel was set under center and made some kind of motion behind him with his left hand. He was either waving away a fart or trying to tell Jamaal something. Post snap, he looked left, and the entire OL blocks to the left, preparing for a screen. Jamaal goes right and Cassel frantically looks for him and throws a wobbly pass a couple yards in front of Jamaal. Incomplete. It's worth noting though that had Jamaal caught it, there was a lot of open space in front of him.
3rd PLAY (3rd and 3):
Cassel motions to an empty backfield, again stares down Dexter, and hits him in stride 5 yards past the Line of Scrimmage (LoS). Dex runs for another 4. Gain of 9. First down.
4th PLAY (1st and 10):
Peyton Hillis runs for 1 yard, up the middle. There's just nothing there. The OL didn't open any lanes.
5th PLAY (2nd and 9):
Jamaal Run play. Tony Moeaki blocks wrong defender - he takes on the RDE and lets the NDB move laterally along the LoS to trip up Jamaal. Tony probably should have chipped the RDE and moved on to the NDB, as Jamaal would have passed the RDE before he could make a play. Dexter may have whiffed on this though... he kind of hesitated at the snap, but did get into the secondary and take on a safety, so that might have been his assignment. Still a gain of 5, because Jamaal is awesome, and gets to the LoS soooo fast.
6th PLAY (3rd and 4):
Shaun Draughn run play. Eric Winston shows why we signed him. He takes a LB towards the sideline, out of the play and opens a HUGE hole between him and Jon Asamoah. Draughn however, cuts in between a smaller hole opened between Asamoah and Rodney Hudson. Gain of 3 and 1/2. Poor vision by Draughn. Had he cut between Winston and Asamoah, he likely would have gained a first down and then some.
7th PLAY (4th and inches):
QB sneak. Great play by entire offense. Cassel audibles into an empty backfield, the entire backfield moves in unison and the formation shift is smooth. Good push by Ryan Lilja and Branden Albert that gave Cassel plenty of room. Gain of 2. First down.
8th PLAY (1st and 10):
Jamaal run. HUGE push by OL. I meann, they took the DL a good 3-4 yards past the LOS. Nate Eachus (FB #45) has a solid lead block for JC by taking LB#58 out of the play, and enables Jamaal to follow the OL and burst through, carrying the pile for a gain of 5.
9th PLAY (2nd and 5):
Hillis run. Again, huge push by the 3 interior OL. Hillis follows them for an easy 5. No contact until 4 yards past the LoS. First Down.
10th PLAY (1st and 10):
PA pass to Baldwin. The defense doesn't bite. Hudson gets manhandled by Dan Williams, but Dan loses his balance, hitting Cassel low, drawing a flag. Cassel had an easy check down to either Jamaal or Eachus for an easy 5 yard gain. Cassel makes an obvious read from midfield (Charles) to left sideline (Baldwin), and stood strong in the pocket. It was a bit of a wobbly pass, but had good placement (in front of JB, where only he could catch it). There were only 2 outcomes to this pass, even though it was in double coverage - a JB catch or incomplete. Incomplete, but first down via penalty.
11th PLAY (1st and 10):
Hillis run. Another nice job by the OL. Hudson, Asamoah and Winston takes the defense far right, Lilja holds his ground, and Hillis slips between Lilja and Hudson. Gain of 7.
12th PLAY (2nd and 3):
Charles run left. Eachus goofs on this play and bumps into Breaston, who is taking on a block. It causes JC to get jammed up behind them and trip. Eachus just didn't get outside fast enough.
13th PLAY (3rd and 2):
Cassel to Hillis pass. Blitzing LB and Baldwin being tracked to the inside by DB made this an easy read and walk in TOUCHDOWN. Hillis had no one covering him, and Cassel made a great play, hitting Peyton over the shoulder in stride for an 11 yard TD. Joel had a nice post with pictures available here.
FIRST DRIVE CONCLUSION:
They looked a little rusty at first, and took some time to get into a rhythm, and benefited from a little help via Dan Williams unnecessary roughness penalty on Cassel, but this first drive was a success. A 6:52 drive is going to be a key staple of this offense to beat teams like SD and DEN consistently. Daboll did a good job spreading the ball around, and it's obvious that Hillis and Charles are the real deal, bread and butter of this offense.
FIRST DEFENSIVE STAND: A SOLID SHOWING BY ROMEO'S D
1st PLAY (1st and 10):
Pass. Vanilla base defense. Nothing worth noting. ARZ gain of 10, tackle made by Jalil Brown. First down
2nd PLAY (1st and 10):
Run. ARZ in bunch formation left, single RB. Toribio commands a double team. Tyson Jackson takes on a single blocker. The OL tries to make a hole in the middle, and succeed in a small gap, but as a WR comes through to lead block, Jovan Belcher pops him and Derrick Johnson penetrates for an easy tackle. Perfectly executed Run Defense by the Chiefs. Gain of 1.
3rd PLAY (2nd and 9):
Pass. Routt gets beat bad on a comeback route by Roberts, but makes the tackle. Jovan Belcher does his best stuntman impersonation on a blitz and flies through the air like there was an explosion behind him. Gain of 8.
4th PLAY (3rd and 1):
Run. DJ in beast mode. Penetrates the gap and tackles RB for a loss of 2. I can't figure out how he did it. He was just too fast on this play. Cardinals PUNT.
FIRST DEFENSIVE STAND CONCLUSION:
If this is how this D is going to look all year, we're in for a show. They're fast. They're hungry. The DL looks strong, and the LBs look like animals.
SECOND OFFENSIVE DRIVE: A QUICK STRIKING OFFENSE
1st PLAY (1st and 10):
Pass to Jamaal. Decent screen pass to Jamaal. Lilja and Hudson whiff on blocks in the secondary, which could have made this a huge play. Still it's a gain of 11. First Down.
2nd PLAY (1st and 10):
Hillis run. Another great job by Winston and Asamoah, but moreso Winston. Winston helps Boss on the outside moving a blocker, then comes back across the gap and chips LB#58. Eachus also comes through the gap and gets a big, audible pop on a defender. Winston's chip was enough so that Hillis only had to break an arm tackle by #58. All in all Hillis breaks 3 half-assed arm tackles. Breaston is slacking downfield and it results in CB#21 bringing Hillis down. Had Breaston been more decisive and attacked rather than wait, it probably would have resulted in a TD. Peyton showed GREAT quickness and strength. Exactly why we got him. Gain of 28. First Down
3rd PLAY (1st and 10):
PA pass to Dexter. Cassel makes some observation pre snap and points it out to the offense or OL. Great pass blocking by the OL. They give Cassel a picture perfect pocket. Beautiful pass over Dexter's shoulder, hitting him in stride. Gain of 34 yards. First Down
4th PLAY (1st and Goal from the 4):
Draughn run. 2 TE on the right of the OL. Winston chips 2 defenders and Moeaki finishes one off, opening a lane for Draughn. Boss takes care of the outside blocker. Really good blocking overall by Moeaki, Boss and Winston. I think Moeaki had the best block though. TOUCHDOWN
SECOND OFFENSIVE DRIVE CONCLUSION:
Well, well, well. We can orchestrate both a 13 play clock eating TD drive AND a 4 play, big gain TD drive? Yes please. Please, please, please let this carry over into week 1. Burying teams 14-0 in the first quarter will win us a lot of games. Put the opponents in a hole and let our defense have their way with them. This will be huge if this is an accurate preview of things to come.
SECOND DEFENSIVE STAND: 3 AND OUT!
1st PLAY (1st and 10):
Run up the middle. Tjax draws a double team, Toribio manhandles the center, sheds the block and makes the tackle. Loss of 1.
2nd PLAY (2nd and 11):
Pass. Nice push by DL. Houston looks good in coverage, breaks up pass. Incomplete.
3rd PLAY (3rd and 11):
Pass. Poe is in at DT. Bailey is to Poe's right. Berry, DJ, Houston and Tamba all blitz. Poe, Berry and Bailey collapse the pocket, Houston and Hali cause chaos on the outside, and DJ sneaks in untouched. DJ, Hali and Houston all meet at a QB with his OL in his face, and Houston makes the sack. Houston embarrassed the RT, and Hali seemed to turn Levi Brown (LT) to stone through some sort of voodoo or mind control. I think Levi was probably just shocked at the mayhem around him. He better call Allstate, cause that OL is in for a lot of mayhem this year, I do believe. ARZ PUNT
SECOND DEFENSIVE STAND CONCLUSION:
The only thing better than this outcome would have been a takeaway. You just can't get any better than this.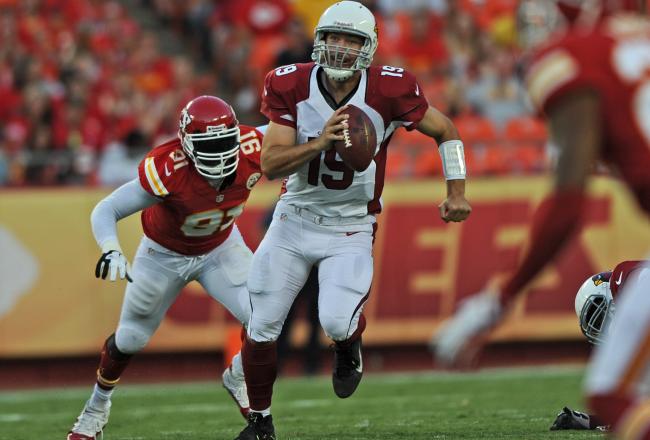 All in all, like I said, this was a really promising night that the Chiefs gave us. There's a lot to be stoked about. Straight up domination, no matter who you're playing, is still fun as hell to watch.