Hello again CHIEFS FANS!!!! Are you as excited as I am about this upcoming season? You may not know this yet, but the most dedicated fans in the NFL are about to get their due (no I'm not talking about Browns fans, though they are going to come close). US, you and me, me and you, it's finally going to be our turn. I'm going to show you how 2 players are going to be the dividing line in this team's success, one on offense, one on defense, and I'm going to show why, and how they are going to make this team elite
NOW. Today I will start with my fav, defense.
Just the other day I saw on article by Flowers24 about the importance of Justin Houston. Now, I want to state I've been working on trying to get this article out for a while, but he pretty much hit the nail on the head. Justin Houston is our "golden arrow" see below.

You will notice 2 large green arrows, 6 normal green arrows, 1 equal sign, a golden star, and the "golden arrow" The normal green arrows represent a player who has one good reason to improve, large equals 2 good reasons, equal sign is obvious, the Golden arrow is the one who will start the major domino effect, and the golden star….well we'll get to that J

Justin Houston is the golden arrow, he will start the progression. Last year Justin Houston showed up to camp out of shape, cocky, and kind of fat. As a rookie he didn't get an offseason, nor a full camp to learn the Chiefs simple yet, very disciplined defensive system that one of the best DC in the league runs. He also told Tamba Hali that he would register 10 sacks as a rookie. Needless to say he learned that lesson the hard way, but none the less learned it.
Houston is now in shape, humbled, in year 2, and now has a full offseason and training camp to get more acquainted with the system and his teammates. Houston did post 5.5 sacks in the last 5 games, once he came on, he really CAME ON. Just in case you didn't do the math, that would equal 17.5 sacks over 16 games. Those additional 12 sacks would equal Hali's total, and jump the Chiefs into the top 10 in sacks last season. Now, I understand that math isn't necessarily an accurate projection, but it still gets the point across.
That point is if Justin Houston, continues his progress, and works hard he can and will be a dominate force on this defense. There is a reason this guy was projected in the first round. I believe Houston is going to be a beast this year, not the kind of beast everyone just tosses the word around for, but a Tambahawk kind of beast, like Houston we have take off, or Houston the eagle QB has landed been sacked. He was also very stout against the run for most of the year, making the Chiefs right side very hard to run against.

Now for the domino effect. Justin Houston should progress due to all the things above, and just plain growth and development in the NFL. This will carry over into a small arrow and a large arrow. The large arrow being Tyson Jackson.

Tyson Jackson is going into his 4th year. It supposedly takes 3 years to develop Dlinemen. Well, T Jax also missed a good portion of his 2nd year, so he should be hitting his stride this year. Personally I believe he has. According to PFF he is the best run stopping DE in the league. Posting the most stops and highest efficiency. To me that's more valuable out of a 34 DE than pass rush ability, especially when you have Tamba Hali and maybe his best friend for years to come, coming off the edges. Would I like to see more sacks from Jax? Yes, BUT not at the expense of his run stuff ability. So the reason Jax is a large arrow? Housto will give him confidence to step up his game, knowing he has a very good player to back him up, on top of Houston taking attention away from Jax, by just being present. Is there anyone else Houston will directly effect?

Yes, of course, Tamba Hali. Tamba up until this year was by far the most underrated pass rusher and OLB in the NFL. Since becoming an OLB Hali has posted 35 sacks in 3 years, putting him in the same class as guys like Demarcus Ware, Clay Matthews, James Harrison, John Abrahams, and many others, that most NFL fans would consider better. This year is the first year I feel he has received his true recognition, by being voted 34th on the NFL top 100 list. With Houston stealing some of the focus in pass protection Hali could end up with 100 sacks or something. Probably closer to 20 instead of 100, but you get my point. I'll bet Hali leads the NFL in sacks this season.

Well, the effect continues with Hali, now making Dorsey better. Dorsey in my opinion should be a large arrow, but I left him little to keep things simple. The thing about Dorsey is he is "playing out of position" I partially agree with this, BUT he has been doing a great job adjusting. The thing is Dorsey is not used to playing this type of 2 gap role. He has never done so before the switch in 2009. Meaning not only is he still young, but still learning his NEW craft. Yes, Dorsey is an above average 34 DE. People who talk about trading him, are missing the bigger picture. He is still learning, getting better, and actually doing a very good job. According to PFF, Dorsey was number 2 in run stops right behind Jax, and was 6th in efficiency. Dorsey is not just a good player, but is excellent at what he is asked to do…stuff the run and 2 gap. I truly believe Dorsey will progress this year and make an even bigger impact than he already has.
On to NT, this is by far, the biggest unknown on defense this year. Will Gordon start? Will Poe be a beast in his rookie year? Will Powe come out of no where to steal the starting spot? No one knows for sure, but what I do know, is that it should get better, more competition, and if both DEs get better then the NT should as well…green arrow (maybe a small one, but still green) Next I come to the beast in the middle….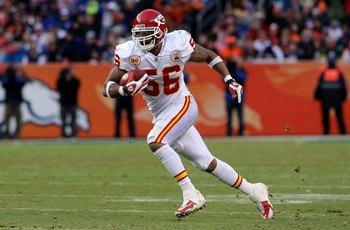 Derrick Johnson. In his last 33 regular season starts he has had 257 tackles, 3 sacks, 29 pass defelctions, 5 picks and 3 of them for TDs. This man is a play making machine. He is a vet now, and with 7 years in, he is seeing the field with great instincts. With the frontline and pass rush getting better he will be able to take advantage of hurried throws and open lanes even more so than last year. Derrick Johnson will be mentioned among the elite ILB this season.
Now, what about DJs counterpart? Well, first let me start by saying I like Blecher. Ever since I watched him hit MJD at the line of scrimmage in 2010 and stand him up for like a 1 yard gain, I've been in his corner. He may not be the fastest or smartest player, but he is tough and plays hard. With that said, the second ILB will get better simply from better Dline play, but the reason this is the other large arrow is Siler.
I like what I've heard about this guy, and that he is a run stuffer. Stuffing the run makes 3rd and long passing situations for Houston and Tambahawk to hunt some QB. Siler has recorded 72 tackles, 2 sacks, 4 PDs, and 2 pics, in his 12 starts so far in his career. Which is more PDs and pics then Belcher has in his 3 year career as a starter, and on pace to have more tackles than Belcher has had in any year. I think with combination of Siler and DJ, our ILBs will truly be feared by opposing RBs. We shelved a lot of RBs last (Forte, Matthews, and McFadden off the top of my head). Siler will only add to that pain for the other team. **Disclaimer I do not wish for anyone to be "injured" but pain is part of the game**

So now that we've covered the front 7, on to the most controversial part of this post…Stanford Routt. He is my equal sign. I know it is split on whether he will be better or worse than Carr, so I made it very simple. First I would like to say, I believe he will be better than Carr, and excel in our system, he's taller, more experienced, and he's faster (40 is faster than CHARLES!!!! 4.27 vs 4.34). Next I will say that with the improvement from the front 7 and mainly pass rush, I believe he can be just as good as Carr minimum. While an improvement is desired, the lack of decline is still very good here.
Next is Flowers…simply put

it's Flowers he's awesome, better pass rush = more pics…GO CHIEFS!!!! On to my favorite new player, Kendrick Lewis. I really like this guy. He is a very solid player and has the potential to contribute many big plays on D. He'll be in his third year, and have a better front 7, and will have….

…ERIC BERRY back. This is the golden star. Man did I miss watching this guy play last year. Why is he the golden star you ask? Because we could make all these improvements without him. We showed that at the end of the year last year. Without Eric Berry the Chiefs were 11th in overall D, 12th in points allowed, and 6th in Pass D (yes I had to double check it myself, 6th). Now, you throw in one of the best safeties in football. Who is still very young, and has a LOT of room to grow. This kid is going to come back and take this defense to a whole other level, which will be fun to watch, because this defense can be elite WITHOUT him.
I read somewhere that the Chiefs were 3rd in overall D for the last 6 games of the season, funny how that coincides with the big jump Houston made. So where is the X-Factor, and reassurance of all this located….

….On the sidelines. GATORADE!!!!! j/k I have the confidence in all of this that I do because of RAC. RAC may not be a great head coach (that remains to be seen), but he IS a beastly DC. This defense WILL take off, if for no other reason than him. RAC fields great defenses. He has throughout his coaching career, this year will be no different, unless you consider this maybe his best and most talented unit yet. I truly believe this defense will rival some of the best defenses of all time…GO CHIEFS!!!!!!
A side not/reminder to all Chiefs AND Broncos fans….
2001 LOSS: 20-of-34, 196 passing yards, 1 TD, 3 INTs.
Pats 2001 LOSS: 22-of-34, 355 passing yards, 1 TD, 0 INTs.
Pats 2003 LOSS: 29-of-48, 278 passing yards, 4 TDs, 1 INT.
Pats 2003 LOSS: 23-of-47, 237 passing yards, 1 TD, 4 INTs.
Pats 2004 LOSS: 16-of-29, 256 passing yards, 2 TDs, 1 INT.
Pats 2004 LOSS: 27-of-42, 238 passing yards, 0 TDs, 1 INT.
Pats 2005 WIN: 19-of-23, 228 passing yards, 0 TDs, 1 INT.
Browns 2008 WIN: 15-of-21, 125 passing yards, 0 TDs, 2 INTs.
Browns 2010 WIN: 26-of-44, 244 passing yards, 0 TDs, 1 INT.
Chiefs Satas found on Bleacherreport.
Total 197/322 61% that's good, BUT 9 TDs vs 14 ints? And excluding one really good game/anomaly it goes to 5 TDs vs 13 ints, and ZERO TDs in the last 4 games. Plus none of those teams had the secondary the Chiefs, I believe, will have this season.
To add more bad news for the Broncos. http://bleacherreport.com/articles/605263-denver-broncos-manning-choose-the-wrong-division-to-want-to-make-a-comeback