QB 1. Peyton Manning (Den)
2. Phillip Rivers (SD)
3. Carson Palmer (Oak)
4. Matt Cassel (KC)
Ok, this is the bad one for the Kansas City Chiefs and the biggest reason we are overlooked. With Matt Cassel everyone and I mean everyone questions our ability to be great. With Peyton Manning coming in to Denver, Denver is automatically the favorite to win the Division. I like that Denver all of a sudden thinks they're great because we out match them in everything else. Manning gives the Broncos life. Phillip Rivers/ Carson Palmer can be leaders on the field. Matt Cassel is one of our only setbacks.
RB 1. Jamaal Charles/ Peyton Hillis (KC)
2. Darren McFadden/ Rock Carwright (Oak)
3. Willis McGahee/ Knowshon Moreno (Den)
4. Ryan Mathews/ Jacob Hester (SD)
This is the position that every single Kansas City Chiefs fans should be excited about on the offense. With a healthy Charles and Hillis, they are the best running game in the NFL. In the AFC West no one even compares with the Chiefs running game when they are healthy. Peyton Hillis is a tank that runs over people. Jamaal Charles is the most underrated running back in the NFL. He is absolutely amazing when he is healthy. Darren McFadden is a good back, McGahee is okay. The Chiefs running game is at the top of the AFC West.... Not to mention Dex....
WR 1.Dwayne Bowe/ Steve Breaston/ Jonathan Baldwin (KC)
2. Malcom Floyd/ Patrick Crayton/ Vincent Brown (SD)
3. Demaryius Thomas/ Eric Decker/ Matt Willis (Den)
4. Darius Heyward Bey/ Jacoby Ford/ Lois Murpy (Oak)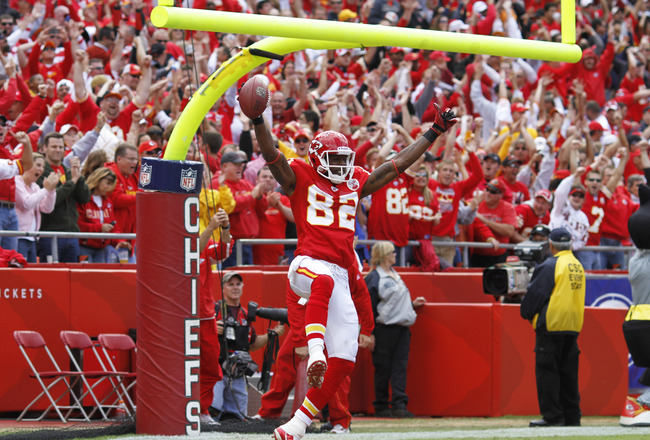 This is another category that KC seems to dominate. With Vincent Jackson leaving San Diego this makes Kansas City's receiving core look even better. Oakland looks poor again. This is the part I don't understand about Manning. Why would he look at Denver with that bunch of Wide receivers? That's dumb. KC rules the Wide Receivers in the AFC West. Beware of the Killer Bees!
TE 1. Antonio Gates/ Randy McMichael (SD)
2. Tony Moeaki/ Kevin Boss (KC)
3. Dallas Clark/ Daniel Fells (Den)
4. Brandon Myers/ Richard Gordon (Oak)
This could eaaaasily change. With Boss coming in to KC with Tony Moeaki along side him, they could be better than Gates/McMichael. I put Kansas City at #2 becuase I didn't want to be too biased and I want to see how Moeaki comes off this injury. Oakland lost Kevin Boss who was their top Tight End. I wouldn't be surprised to see Oakland pick up a Tight End in the draft after the first round. (First round they'll draft the fastest prospect) Denver has an aging Dallas Clark who could still be good, but I think he'll start to fade.
LT 1. Ryan Clady (Den)
2. Brandon Albert (KC)
3. Jared Gaither (SD)
4.Jared Velheer (Oak)
Ryan Clady has been good for a long time and he just edges out Albert in my mind. Albert could improve and possibly be one of the top in the NFL, he shut down top players like Jared Allen and struggled some against others. If he improves just a little bit he will be top ten. Jared Gaither.... Why did we cut him? He is a big talented body. He is also a good player. Jared Velheer is a young guy with a lot of potential that he needs to prove.... To bad he plays for the Chokeland Faders........
LG 1. Tyronne Green (SD)
2. Ryan Lilja (KC)
3. Stefen Wisneiewski (Oak)
4. Zane Beadles (Den)
This is our weak spot on the Offensive line and still ends up (IMOP) 2nd in the AFC West. Tyronne Green looked good last year and he was the best blocker for SD. Lilja is aging and small, but is still a little bit above average. Oakland guy and Denver guy are both very young and I look for Beadles to possibly be at the top of this list by next year.
C 1. Nick Hardwick (SD)
2. J.D Walton (Den)
3. Rodney Hudson (KC)
4. Whoever the faders put in. (Oak)
Nick Hardwick has been top for a long time.... He is probably beginning to decline. Walton is a younger guy that has potential to be great. Rodney Hudson was described as "The best center in the draft". Hudson could be amazing, I just haven't seen enough of him yet. He's gotten time behind Wiegmann (who I'm sure was a great teacher) Hudson could easily be at the top or second by this year. I know, I know.... I'm a raider hater. But who the hell do they have? They lost their starter last year to the Colts.....
RG 1. Jon Asamoah (KC)
2. Cooper Carlisle (Oak)
3. Chris Kuper (Den)
4. Louis Vasquez (SD)
In my humble opinion, Asamoah was great last year. He struggled some but for a guy playing his first snaps he was fantastic. He has no where to go but up! Carlisle is aging. A lot. But at the moment he is still one of the top at his job in our division. Kuper will continue to improve but he is not as good as Asamoah. Louis Vasquez will improve during the course of the year and possibly be at the top.
RT 1. Eric Winston (KC)
2. Orlando Franklin (Den)
3. Jeromey Clary (SD)
4. Khalif Barnes (Oak)
Winston is the best pickup of the year for any team. Except for Peyton Manning. Eric Winston is what makes our offensive line great... Winston according to many is "One of the best, if not the best RT in the NFL". Kudos to Pioli on that one. Thank you. Franklin is a youngster that has a lot of room to grow. He will be a top RT in a year or two. Clary and Barnes are nothing special, just average guys.
DEFENSE
First off let me state that Kansas city ended up ranked tenth in Defense. After injuries, tons of time on the field, and an awful first three games they still ended up tenth. KC top Defense in the Division, possibly NFL.
CB's 1. Brandon Flowers/ Stanford Routt (KC)
2. Quentin Jammer/ Antoine Cason (SD)
3. Champ Bailey/ Andre Goodman (Den)
4. Lito Sheppard/ DeMarcus Van Dyke (Oak)
Even after the Chiefs lost Brandon Carr to free agency and ultimately the Dallas Cowboys, the Chiefs are looking good after the signing of Stanford Routt. San Diego has a play maker and and an aging corner. Denver is definitely aging. Bailey is nothing of what he once was. Oakland is starting over at Corner basically after they gave up their top one to Kansas City.
SS 1. Eric Berry (KC)
2. Tyvonn Branch (Oak)
3. Steve Gregory (SD)
4. David Bruton (Den)
Coming off an injury Berry is still one of the top Strong Safeties in the NFL. His rookie year, he was in the top 5 discussion. Nowhere to go but up! Branch from Oakland is a play maker. Gregory is an average guy and so is Bruton.
FS 1. Eric Weddle (SD)
t-2. Michael Huff (Oak)/ Kendrick Lewis (KC)
Weddle is the top FS in the league. Huff is on and off, Lewis is steadily improving. Carter is well, average.
OLBS 1. Tamba Hali/ Justin Houston (KC)
2. D.J Williams/ Von Miller (Den)
3. Shaun Phillips/ Antawan Barnes (SD)
4. Aaron Curry/ Quentin Groves (Oak)
BEWARE OF THE TAMBAHAWK! Hali and Houston are great Linebackers. Tamba Hali is in his prime. Houston will hit it soon... Von Miller will be a stud Linebacker in the NFL soon, but he is paired with an aging D. J. Williams. Shaun Phillips is a very talented backer but he is paired with a not so talented Barnes.... The faders got Curry and Wimbl... Oh... Wait..... NEVERMIND! HAHAHAHAHAHAHA!
ILBS 1. Derrick Johnson/ Siler or Belcher (KC)
2. Rolando McClain (Oak)
3. Takeo Spikes/ Donald Butler (SD)
4. Joe Mays (Den)
Johnson started his prime this year and looked like the best overall linebacker in the NFL. I don't care who you pair up with him, it'll be at the top. Oakland's McClain is a very good ball player. Spikes is aging in San Diego but still has some in the tank. He's paired with a talented Butler.... Joe Mays is, well, average or below.
DEs 1. Robert Ayers/ Elvis Dumervil (Den)
2. Corey Liuget/ Vaughn Martin (SD)
3. Tyson Jackson/ Glenn Dorsey (KC)
4. Lamarr Houston/ Jarvis Moss (Oak)
Ayers and Dumervil are very good football players and make up most of Denver's front 7. Liuget is a youngster that will improve and become great. T-Jax and Dorsey are fantastic run stoppers, but not pass rushers. Houston and Moss are both average or a little better.
DTs/NT 1. Richard Seymour/ Tommy Kelly (Oak)
2. Antonio Garay (SD)
3. Brodrick Bunkley/ Marcus Thomas (Den)
4. Powe? Gordon? (KC)
Seymour and Kelly are absolute beasts. Garay is a great 3-4 guy. Bunkley and Thomas are decent players. I have no idea what the Chiefs plan on doing here. I bet it's the Draft. I hope they do something though. This is not a great position at all for KC.
WELL. KC AFC WEST CHAMPS? IS IT TOO EARLY?