There are basically two types of Kansas City fans that read these posts.  One type argues that Matt Cassel is coming off a Pro Bowl appearance and while not elite, is fully capable of "managing" the K.C. Chiefs to playoff success.  The rest of us have some serious hesitation with this type of belief. 
Certainly there are some unloyal "fans" that would like to see Cassel hurt in order to bring in their fanchise savior.  True fans should be repulsed by this type of thinking.  As long as Cassel is under center on Sunday, Chiefs fans should be hoping (and praying) for his success. 
With the league seemingly becoming more and more a pass first league, true K.C. fans also have the right to talk about whether an elite QB is needed to take the Chiefs to the next level.  One thing I notice about the teams who are perennial playoff contenders is their consistency in QB play.  Whether it be the Peyton Manning, Dree Brees, Phillip Rivers or this next generation which will include Aaron Rodgers, Matt Ryan, and possibly Sam Bradford or Matt Stafford....teams that want to win in the playoffs understand the need for an elite QB.
The arguement usually thrown around AP is that elite QBs are hard to come by and the Chiefs don't necessarily need one anyway.  I would challenge this line of thinking.  Sure great QBs are hard to come by, but it sure seems hard for a team to win the SB without one.  Baltimore has a SB, but if the had elite QB play they would be as successful as the Patriots.  N.Y. Jets will not get over the hump, despite a great D and a good running game, because Sanchez is not elite.  Houston is a good team with possibly the best receiver/running back combo in the league and yet they will not be contenders either because Schaub is too inconsistent.  Sure you can look at teams like the Giants who won a SB a few years ago, or find another team that is the exception to the rule, but those teams are usually one year wonders.  We want K.C. to be a regular contender, not an unexpected guest in the playoffs. 
So, will Matt Cassel ever be elite?  As much as I want to believe, I have to answer "No."  Does that mean I am a bad fan?  Does it mean I don't like Matt as a person or a leader?  Again the answer is "No."  But I think that Matt Cassel is ultimately one of the best backup QBs in the league.  (I believe he is better than Kolb who should also be a backup)  So, where do we look for an answer? 
One of the great things that Pioli likes to do is to draft a QB every year in the search for the elite.  Sometimes a player is able to transition immediately to the NFL and become a successful QB right away.  Generally however, the longstanding pattern of an NFL Quarterback has been to sit a few years under a successful quarterback and watch how he prepares, how he studies and disects the film everyweek, what small things he does that make him a step above the rest.  Steve Young sat under Joe Montana,  Aaron Rodgers sat under Brett Favre, and many more situations repeat that pattern.  So, could Ricky Stanzi be the answer to the Chiefs QB situation?  Possibly, in a few years.  What about all the Chiefs fans clamouring for the Chiefs to draft Andrew Luck next year?  Most likely he will be taken long before the Chiefs pull the trigger in the draft.  And even then, it may be a few years before he shows any signs of reaching his potential (elite or not).
So is there anyone who we can say is a can't miss elite QB the Chiefs should be targeting?  The answer is obviously, "no."  There are no can't misses, and if there were, they'd already have a huge contract on another team.  But I do think there is someone out there that intrigues me as a potential elite QB that is off many peoples radar.  Who is this mystery QB?  Chase Daniel.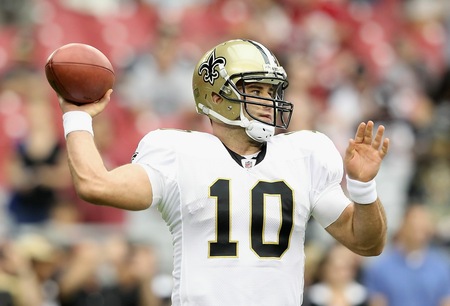 Missouri Tiger fans already know the name.  What you may or may not know is that Daniel has always had a chip on his shoulder because he has never been the proto-typical college or even NFL quarterback when it came to size.  He wanted to go to UT, but was overlooked in favor of Colt McCoy because McCoy was a few inches taller.  Despite the fact that Daniel just led his high school team to the 5A state Championship.  So Daniel went to Missouri, who unless we are complete homers, we would recognize fields a far less talented crop of players than the Texas Longhorns.  Yet, a few years later, Daniel had his Tiger team one win away from going to the national championship.  He is an overachiever.  In reality, Daniel had comparable college numbers to McCoy with much less talent.  McCoy seems well on his way to making a big jump this year if the preseason is any indication. 
What is much less known is that while quietly sitting under the tutorship of Dree Brees the last two years (where he collected a SB ring two years ago)  Chase Daniel has been learning what it takes to be an elite QB in the NFL.  Daniel has been a solid performer in the last two preasons.  Last Sunday night on a nationally televised game, the Saints removed Brees and left the starters in for three series with Daniel at the helm.  The result:  21 points, two touchdowns passing, one rushing.  Could Daniel be a future elite quarterback (ala Aaron Rodgers)?  Are the Saints willing to part with him?  Is it worth the Chiefs looking into?   These are questions that I have asked myself and I encourage you to do as well.  No matter your answer, we must find an elite QB in the very near future.