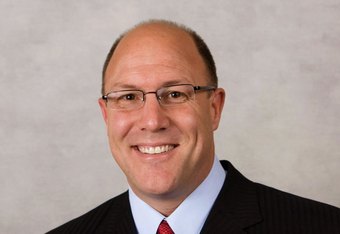 I keep hearing everywhere I go, I want this guy or I want that guy or we shouldn't get him, ect, ect. Maybe it's just me, but it blows my mind when I see this coming from Chiefs fans. Scott has proven time and time again that he knows what he's doing. He doesn't hit on every pick and signing, but he hits a whole heck of a LOT MORE then he misses. I believe I would be hard pressed to find a Chiefs or Patriots fan, or any kind of fan (who knows what they're talking about) that would disagree with that.
Trust me I feel you guys on your desire for certain players. I was totally bummed when I saw that Alex Wujiack signed with the Browns instead of the Chiefs. I was also bummed to see Takeo Spikes not only NOT sign with the Chiefs, he signed with the Chargers. So, now we have to face him twice a year. All of that was quite disappointing, BUT I always remember one thing....I Trust in Pioli (you know, like the title says :) I would love to see Steve Breaston, or Malcom Floyd, or maybe Franklin, but I'm just plain excited when I see the Chiefs have interest in someone, because I believe if Pioli is bringing him in, then I believe that he will improve our team. It doesn't matter if he's a diva, has off the field issues, doesn't fit the scheme, is too big or small, ect, ect. If Pioli says "this guy will make the team better" are you going to argue with him?
Everyone wants to sit here and listen to what the "experts" say, but not listen to the guys who are not only "experts" but they spend 32 TIMES the amount the guys from ESPN or NFLn do on their particular team. Scott Pioli has earned my respect by taking a 2-14 team to 4-12 to 10-6 in back to back years and has shown NO signs of slowing down that progress. All I'm saying is...anytime you hear Pioli is trying to get so and so....if you're a Chiefs fans you should be excited....if you're not a Chiefs fan, you should be scared, because it likely means the Chiefs are getting better. Sit back and relax Chiefs fans, you have one of the best in the business, building a dynasty right in front of your eyes.
If you ask why I have some much faith in Pioli....