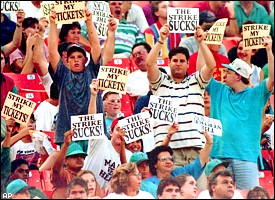 From the FanPosts. I felt the same way when baseball went on strike in '94. I was never the same baseball fan. -Chris
I'm sure quite a few of you were around for the baseball strike in 1994 that began in early August and lasted until April.  I clearly remember because that is when my love of baseball died.
I was an avid baseball/Royals fan in my youth through the late 70's and even attended Mizzou during the '85 World Series (very sweet!).  My love for the game ran deep.  Stats, matchups, pitching duels, loved it all.
That changed in '94/'95 when the labor strike lasted for 8 months.  The game I loved then showed the greed and fan apathy that almost brought the game to it's knee's.  My support, my money, and my love meant NOTHING in that conflict!  As in any relationship, I was hurt and my trust was lost.  I can never again feel that way about baseball.
Now first off, I know the NFL is in a lockout and this was a players strike but that isn't the point.  The point is, regardless of who you feel is in the right (owners/players), this lockout is slowly heading to point of alienating an incredibly rabid fan base.  The question is, when is the tipping point?  This is not meant to question anyone's loyalty to the Chiefs (as I m still a Royals fan as well), but rather your love and feeling for the game itself.  We'll all be Chiefs fans when this is over but when do you begin to lose your joy?