As Joel just informed us this morning, the Colts are down to the bottom of their Left Tackle barrel.  So this got me thinking... what is Tamba Hali going to do this Sunday against a downtrodden and injured Colt's offense?  Tamba is coming off a 2010 performance that had him ranked as the AFC's best sack master and QB aggressor.  He's also coming off a game last Sunday where he registered 2 sacks and 7 pressures.  All in all Tamba was putting heat on the QB 1 out of every 3 times he rushed.  That's pretty damned impressive.  
He's currently ranked 5th in the NFL for sacks.  And I can't find the stat, and am admittedly too lazy to look for it (maybe one of you can help out here), but it seems like I read an article a few months ago that had Hali leading the NFL in QB pressures in 2010, and it wasn't even close. Something like 60% of his rushes result in pressures, with DeMarcus Ware was next and only registering pressure 40% of the time?  Sound familiar to anyone? Sorry I can't be more specific, just thought I'd throw that out there.  
Tamba on the prowl:
Anyways, what are the chances that Tamba is going to do something that hasn't been done in 20 years this Sunday... and break a record that is held by one of he greatest Chiefs of all time?
I'm talking of course of the late, great Derrick Thomas.  On November 11, 1990, Derrick Thomas sacked Seattle's QB Dave Krieg 7 times.  Unfortunately it was a losing effort for the Chiefs, but the record that DT set 20 years ago still stands firm.  DT sits atop the single game sack record all by his lonesome, and the next closest players to reach that pinnacle with 6 sacks were: Osi Umenyiora in 2007, Fred Dean in 1983, and Himself in 1998, when he put Raiders QB Jeff George on the turf six times and helped the Chiefs get a 28-8 victory.
Osi examining his kill:
Fred Dean:  "RAWR!!!!!"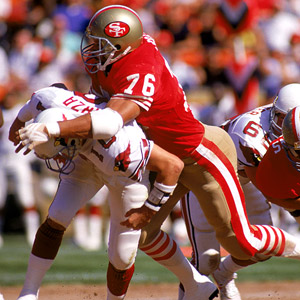 I do have to say, that if any player in the NFL ever breaks DT's amazing record, I really hope it is our very own Tamba Hali.  Last Sunday he looked very DT-esque, and I had a blast watching him harass McNabb repeatedly.  It would be both phenomenal and fitting if Tamba and DT sit atop the single game sack records.  Even if Hali doesn't break this record, he very well might have a career day and surpass his own single game record of 3 sacks, achieved both last year against San Francisco and in 2009 against Denver.  
So for me, I will be eagerly watching Tamba demolish 3rd (4th maybe?) string LT Jeff Linkenbach on his quest to harass Curtis Painter and join Derrick Thomas atop the record books.  Tamba most certainly has the skill set and the drive to achieve this.  Let's all cheer him on in the hope that it happens.  
GO TAMBA, GO CHIEFS!!!