From the FanPosts. Certainly better photos than I provided. -Joel
A lot of people have shared their thoughts about the Chiefs' inaugural training camp in St. Joseph.  I attended the "send-off event" last Wednesday evening, and had a great experience.  I came away excited for the season to start for the first time since the Vermeil era.  
I come from the perspective of having grown up in St. Joe rooting for the Chiefs, moving away and then coming back to KC to witness the last year of the Vermeil era and the subsequent collapse into ruin.  I've been cautiously optimistic about the 'new regime' at Arrowhead, tempered by the regime change across the parking lot that has brought little other than renewed hope in the minor leagues and 90+ loss baseball.  
Training Camp in St. Joseph made me feel like a kid again.  I came home and my wife said I was obviously "starstruck."  I'll post a few pictures to explain why, even though I only expect the team to win 6 or 7 games this season, I have rejuvenated excitement regarding the franchise.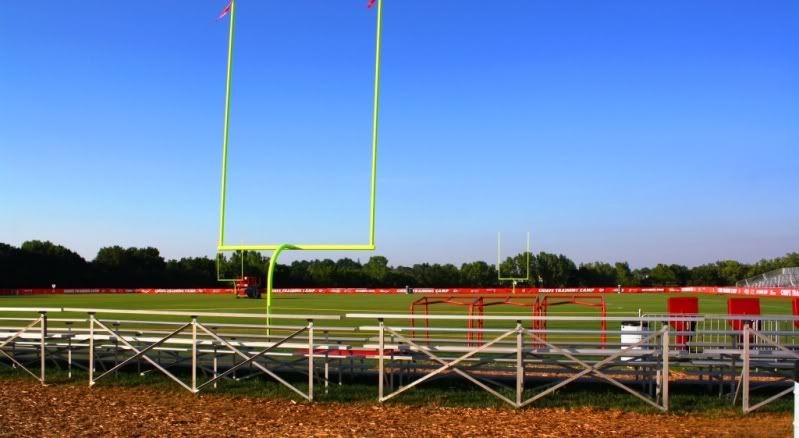 A lot of photos are out there of the new indoor facility.  This is one of the practice fields NW of Spratt Stadium that were build for training camp.  The facility as a whole has an air of professionalism and "major league" about it.  I never made the trip to River Falls, but I get the impression this is one of the advantages of the new facility.  Great recruiting tool for MWSU.
I am very happy that Warpaint is back.  I think horses are beautiful, and this tradition returns one of the most famous lines of painthorses to the spotlight.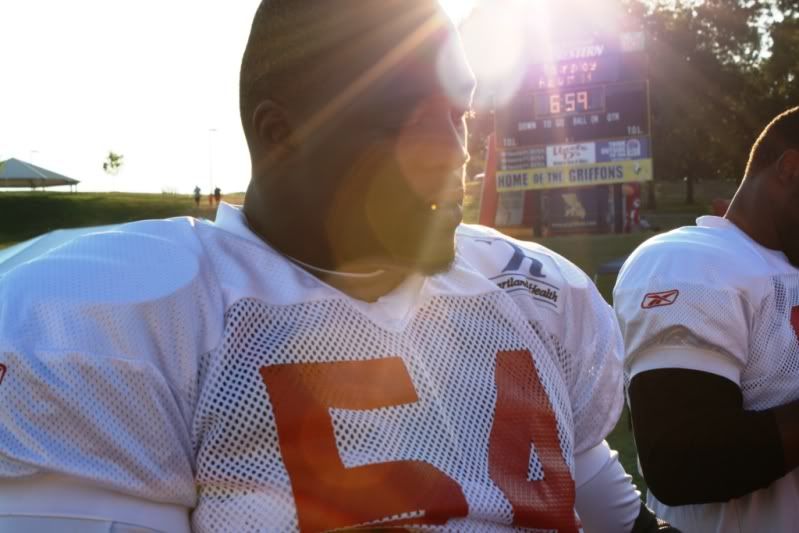 I never knew Brian Waters had a gold tooth, but there it is.  My hope is that the infusion of talent through free agency and the draft on the offensive side of the ball brings out the best in Waters, or at least maximizes what he has left in the tank.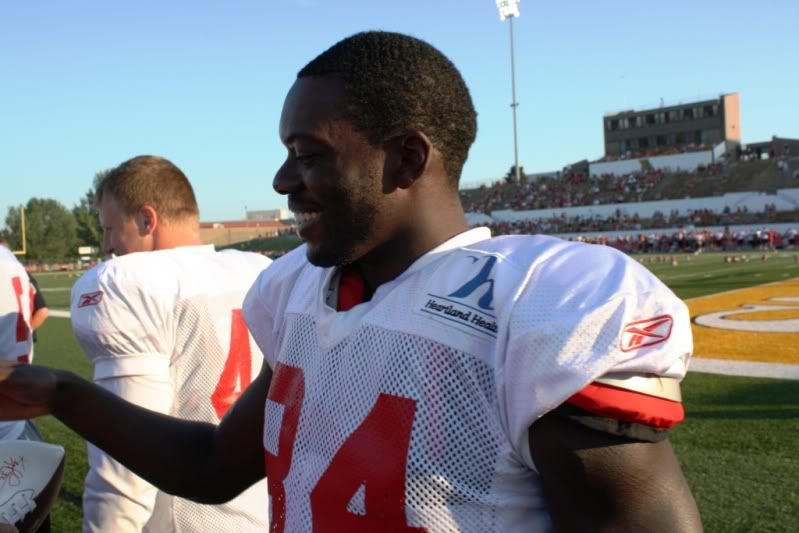 Chris Chambers was a really nice guy to talk to.  I gave him the whole "you're on my fantasy team" routine, and he said he actually enjoyed hearing that, that it motivated him.  He told me he is psyched about playing the Chargers in Week 1 and going to his home town (Cleveland) in Week two.  I expect big things out of Mr. Chambers out of the gate.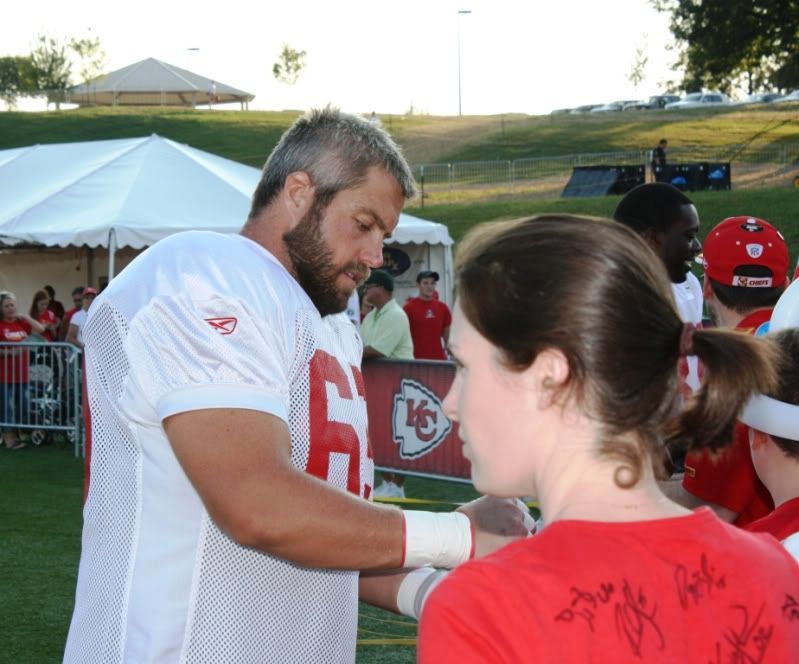 I welcomed Ryan Lilja back to the area, and he said it was "great to be back home."  Super nice guy, and brings needed talent to the O-line.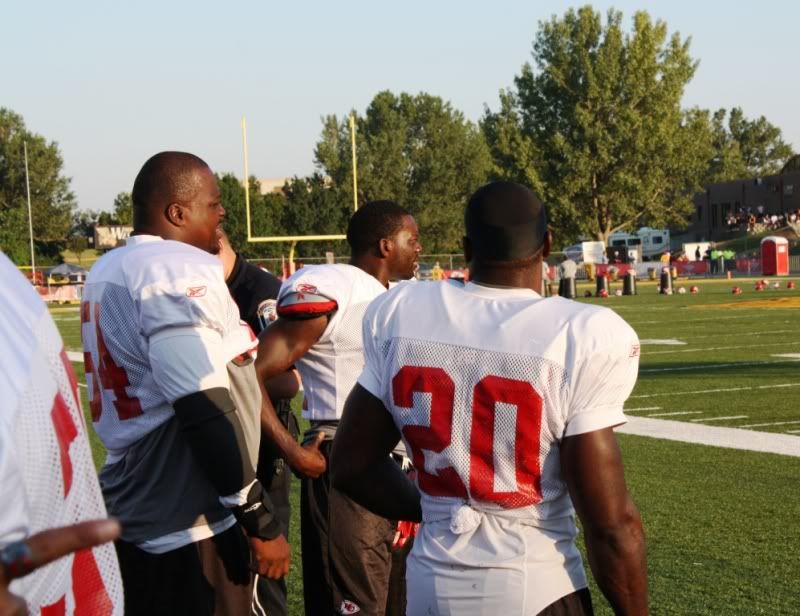 Waters, Chambers, and Thomas Jones.  This collection of veteran talent is a welcome sight when looking back at the Herm complete rebuild years.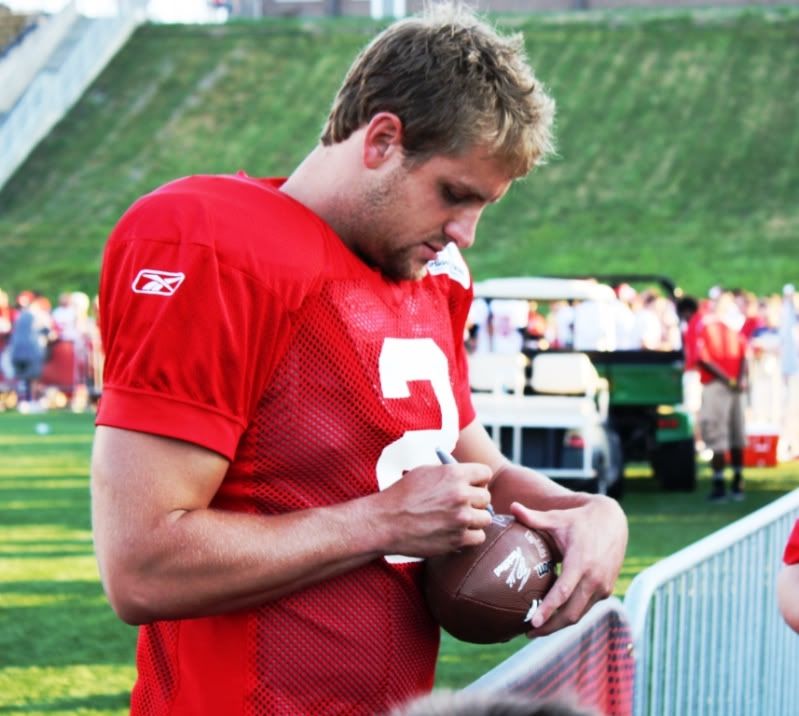 Dustin Colquitt, 2007-2009 Team MVP?  He looked good in practice, and with good health might some day challenge that guy in Oakland...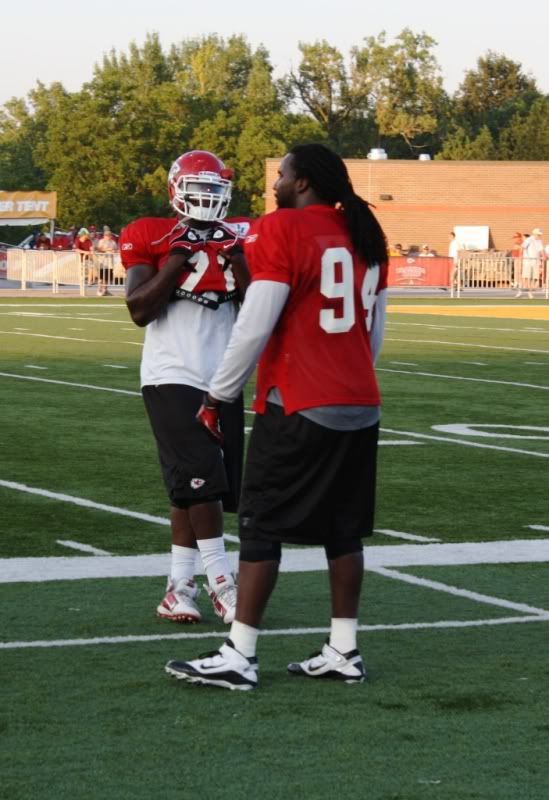 Tyson Jackson is going to need to step up this year, along with the rest of the front seven.  This group is why I don't think we'll win any more than seven games this season.  Run defense is going to still be an issue, I fear.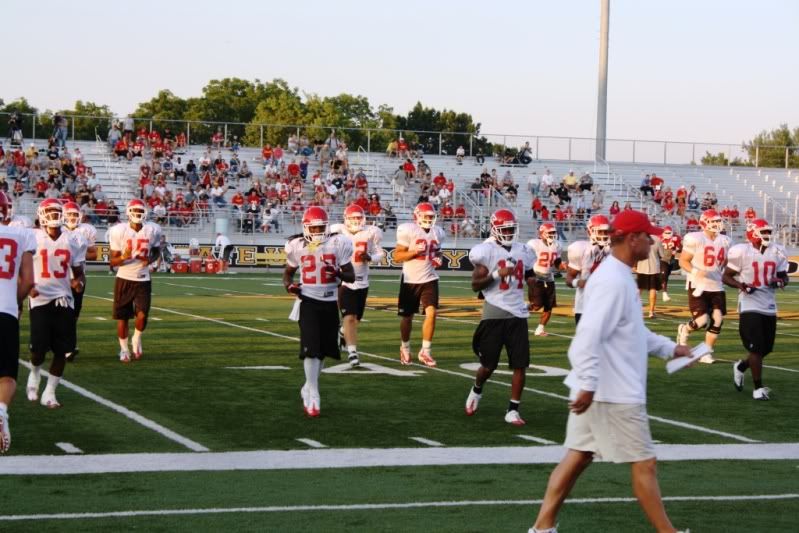 Dexter McCluster (22), Run DMC, is going to be exciting to watch this year.  He is already being worked into the offense in multiple ways, and I think this little guy is going to make a difference simply in giving defenses something new to worry about, loosening up the coverage a little.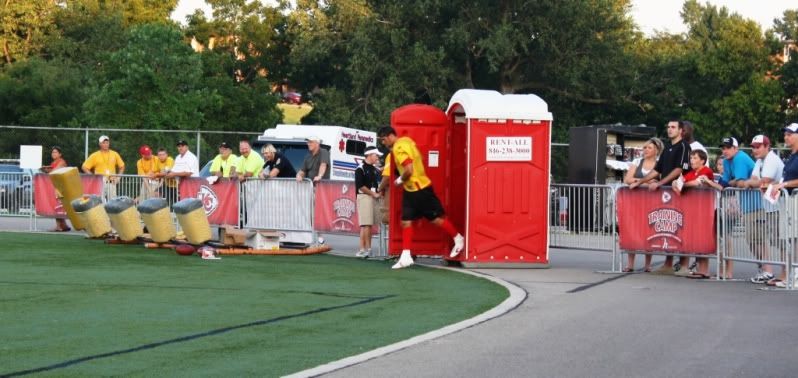 Matt Cassel.  If only his throwing arm was impatient as his bladder.  (He had to go use the porta-john during team warmups.  When he came out, the entire stadium started clapping.  The coaches were rolling in laughter)  We're all looking for improvements from Mr. Cassel, primary of which, to me, is getting rid of the stinking ball.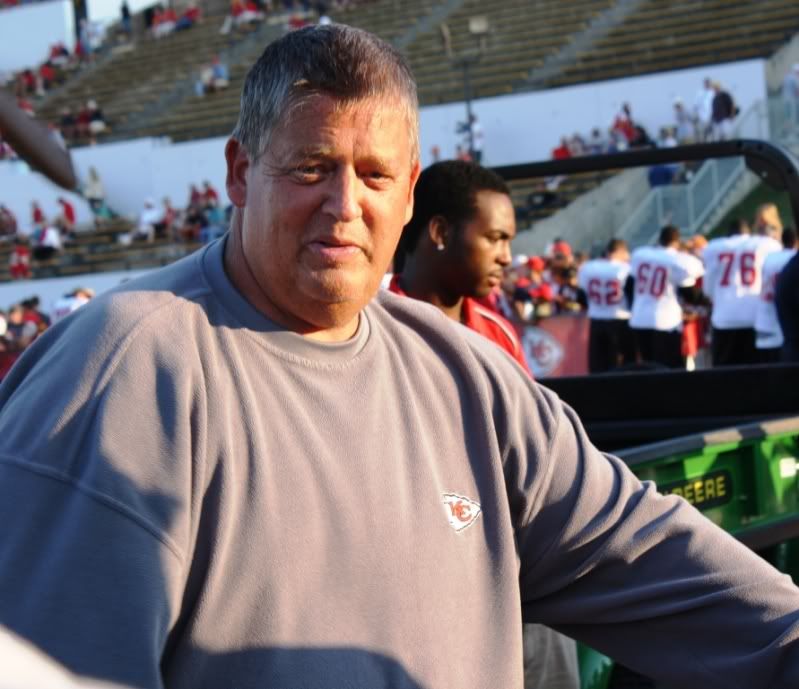 I love the moves to bring Weis and Crennel into the mix.  They are proven coordinators.  Charlie was getting around better on the leg/knee.  He had a metal cane that he was pointing at everyone during drills.  I wanted really really badly to give him a GO NAVY, but I also wanted his autograph :)  As much as I despise Notre Dame, I'm glad he's the Chiefs O-Coordinator.
Haley, Pioli, and Clark Hunt.  I thought it was pretty cool that the owner showed up at training camp in St. Joe to address the crowd of 3,500.  I told him as much after practice.  I can get behind this group, because I really, truly feel they are committed to winning.  Can't say the same about the Royals.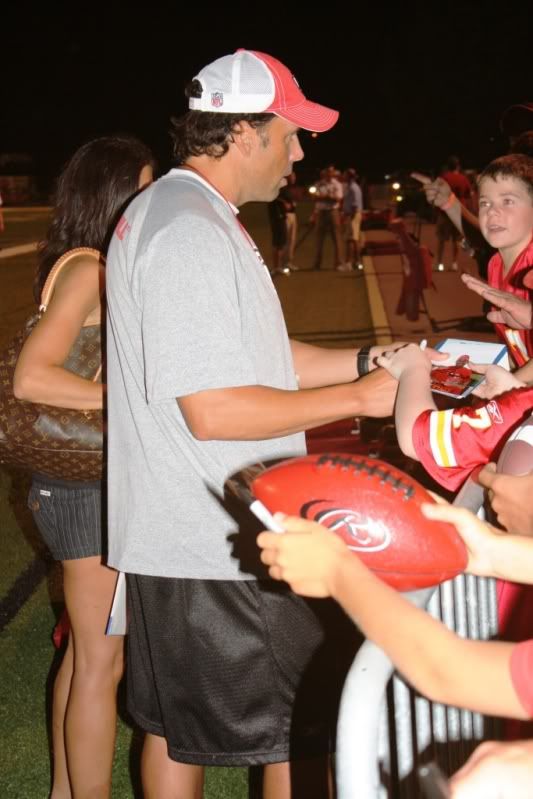 Coach Haley signed more autographs than anyone last Wednesday night.  He stuck around after practice signing autographs even while his assistants and wife were tugging at him to head up the hill to the staff meeting.  As much grief as the media gives him about his attitude at press conferences (much of it deserved), this guy was nothing but great to the fans in St. Joe.  My perception of him changed a little last week.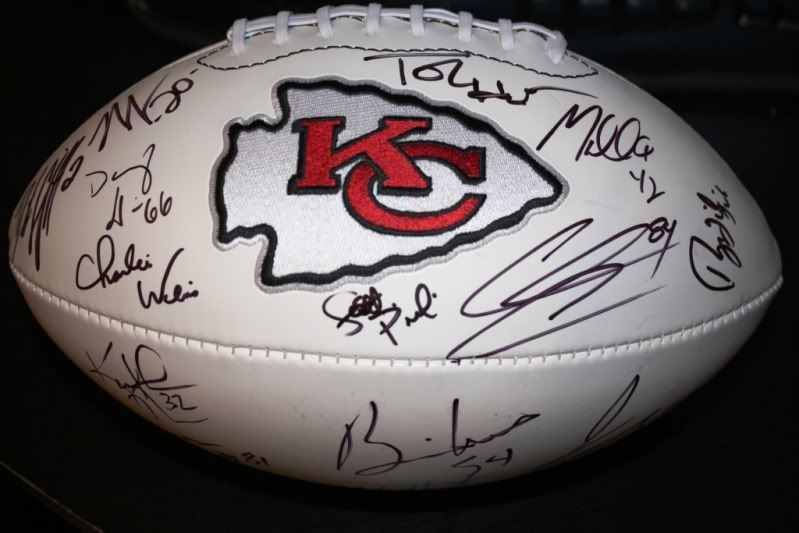 And this is why I felt like a little kid.  Sure, I paid $35 for an autograph ball at the Pro Shop, and $3 for a Sharpie, but I came away with 14 autographs, including Waters, Chambers, T Jones, Moeaki, Colquitt, Lilja, Charlie Weis, Todd Haley, Scott Pioli, and Clark Hunt himself.  I've never been a huge autograph collecter, and yes, I was the 30-something acting like a kid waiting in line for autographs, but I finally have a piece of Chiefs memorabilia that I can put on my rec room mantle forever.