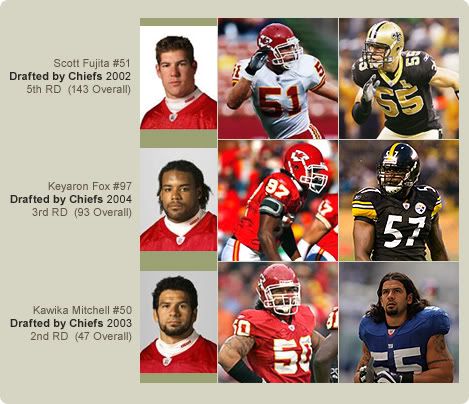 Who is next?

What do these three players have in common?

All three players drafted by your Kansas City Chiefs. All three made the final roster as a rookie with the Chiefs. All three showed play making ability while playing with the Chiefs. All three were drafted as Linebackers. All three were not resigned by the Chiefs after their rookie contract expired.

And the most glaring similarity? They all were either starters or played a significant role for their next team and those respective teams also happen to be the last 3 consecutive Superbowl Champions

SB XLII - New York Giants
SB XLIII - Pittsburgh Steelers
SB XLIV - New Orleans Saints

Is this a trend? Maybe? Either way, you can agree or disagree with my theory. As I looked into KC's draft the past 10 years, there weren't many LB drafted. The fact remains that KC have not drafted too many players in the LB position the past 10 years. The ones drafted were not a bust in any way or form but KC elected to let them become free agents, signing with another team. Who will be the next ex-Chiefs draftee to land with a team to win a Superbowl? My theory is only looking at the players drafted by KC, not free agents nor 1st year players.

The remaining Chiefs still active either with KC or another team are Monty Beisel, Boomer Grigsby and Derrick Johnson. Eventhough Beisel played LB, he was drafted as DE. Beisel played in a Superbowl with the Arizona Cardinals. Grigsby is unique since he is now a converted FB. For that, I would exclude him in my theory. Now, this brings me to the conclusion that Derrick Johnson is the only active LB drafted by KC that haven't won a ring and may one day win one. You see where I'm going with this? Question now will be if he wins Superbowl, will it be as Chiefs or not? With that said, I hope to god that Pioli resigns DJ.




Other interesting mention of Chiefs draftees that have had success after moving on and possibly one day win a ring wearing another uniform are listed below. Here are some of the defensive players that may not fall into my theory of (ex-linebackers drafted by KC)

S-Bernard Pollard (Texans starter) drafted by KC 2006 2nd RD 54 overall
DE-Jared Allen (Vikings starter) drafted by KC 2004 4th RD 126 overal
DE-Jimmy Wilkerson (Bucs starter) drafted by KC 2003 6th RD 189 overall
DL-TankTyler (Panthers) drafted by KC 2007 3rd RD 82 overall
DE-Turk McBride (Lions) drafted by KC 2007 2nd RD 54 overall
DE-Ryan Sims (Bucs starter) drafted by KC 2002 1st RD 6 overall
DL-Junior Siavii (Cowboys backup) drafted by KC 2nd RD 36 overall

Please Rec and we'll see how many Chiefs fans want DJ to return in 2010 and beyond