Yes. The title says it all. No need for a description, and i'll give you 3 reasons why:
1. Players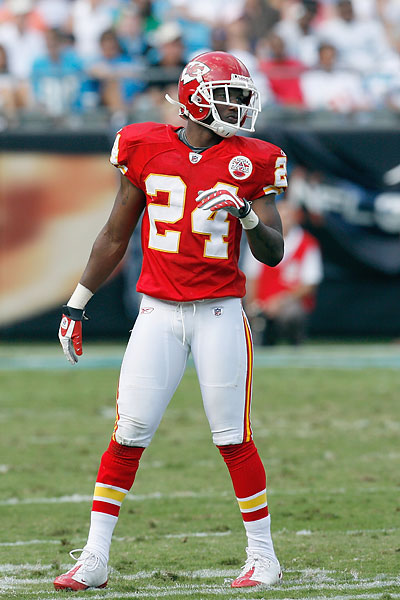 The Ones we have: Anytime a QB plays us he's gonna have to worry about 2 words that will haunt him all week. The Brandon Tandem.  IMO I think Brandon Flowers was the best corner not to go to the pro bowl. I read somewhere that he was the 8th most productive. Towards the end of the year QB's feared to throw his way and he has earned his respect from the best. Brandon Carr is also very productive. I don't think hes a top corner but he is an above average corner. On a bad defense like we had he was one of our playmakers. I expect more from both of them next season.
Maurice Leggett not only is on twitter every second of the day and raps but he can also make some plays! I think he is a better nickel than almost any other in the league. Everyone remembers his rookie year when he had a fumble recovery against the raiders. He also had a pick the next week against the broncos for as touchdown ( if my memory is correct).
As of right now we still need work on our linebackers. IMO I think we already have 2 proven ones. Of course Tamba Hali can pressure the QB almost anytime. Just ask Ryan Clady if you don't believe me. Pressuring the QB like he can can force some bad throws. We also have IMO and many others people's opinion one of the best cover LBs in Derrick Johnson. He can also sack you, intercept a pass, cover a WR, oh and take your QB out of the game:]
Our safeties is where we need some help. The 2 safeties who started for us Jon Mcgraw and Mike Brown played bad - decent. I think Mcgraw stepped in and did pretty good. I also wrote a post and most of us agreed Brown would be good to have only as a backup and help teach some other safeties. Jon mcgraw is a great special teamer and a solid solid backup. I personally think Jarrad Page is an OK player. My gut tells me he won't be here next year though and he'll be in blue and white playin for gunther.
THe possible new players: If your like me your hopin to get Eric Berry. i think if  Brown stays it would be perfect for him. If this guy really is the next reed or dawkins, then I think that is exactly what every great defense needs. Most of us are still upset about pollard so Berry should be our prescription.
Joe hadan is also a possibility. He wouldn't be my first choice, but imagine 2 shut down corners on both sides and brandon carr at nickel! I like our odds.
There is a number of safeties we could also sign if berry falls through, chad jones, taylor mays. Also free agents with Ryan clark and sean jones.
2. COACHING
Emmitt Thomas: At first I didn't like when we let go of clancy for DBs coach. WHen I found out we hired thomas as our coach I couldn't of been happier. Hall of famer! He knows how to coach. He knows how to play. He knows how to win a championship. He also has great pride in the chiefs! He also has great players to work with.
ROMEO:  I feel like we talk about crennell enough. We all know enough about him so i'll make it short. Great defensive coach. No better 3-4 coach than this guy here.
3. Opponents
This is my way of saying don't worry about who we are playing. Andre Johnson, peyton Manning, Larry Fitzgerald. or whoever it may be.
I feel like we are playing some opponents where we won't have to worry about them putting up 300 yds on us.
examples: cleveland, oakland, st. louis, and buffalo
Then again, the draft hasn't even passed yet so anything can happen. I'm not trying to put these teams down in anyway though. Then  there are some opponents we might have to worry about
examples: indianapolis, arizona, houston, and SF
These teams will truly test us with either good recieivers or a good QB or both. I don't see these teams torching us up and that's because when we play big time recievers romeo's gameplan and our player's mental focus will rise. I don't care how good of a QB you are or how great of a receiver you are. With a good pass rush, a great secondary, and good coaching around them. You are in trouble. Even if your manning. Remember when romeo's defense with Ty Law use to tear apart manning?
Bottom Line: The chiefs should be in the top 10 when it comes to pass defense.