I know this guy from work, see. His name is Forrest. Of course he answers to "Gump", "Gumpy" or "hey! Bubba - Gump". And, wouldn't you know it, Forrest is what some folks would call "a couple of acorns short of an oak tree". One of the reasons for that is that Forrest is crazy about all things Chiefs. He is a 100% die hard fan who has been around since goal posts were actually on the goal lines. He has been a Chiefs fan since Bobby Bell was a rookie and didn't win the Mac Lee Hill Award because Mac Lee Hill had not shown up yet.
Well, the other day I made the mistake of asking Forrest what he thought about the Chiefs this year. He was so excited and so sure the Chiefs were going all the way to the Super Bowl that I felt compelled to try and temper his enthusiasm, if only just a bit. Now, you have to understand I feel the greatest respect and admiration for Forest and his optimism. However, I also feel a little sorry for his naive, simplistic view that the Chiefs are a "shoe-in". Forrest says they have a play off spot cinched and all that is left is...well,... to order the play off tickets. Just call me Lt. Dan; But, I tried to inject a little realism.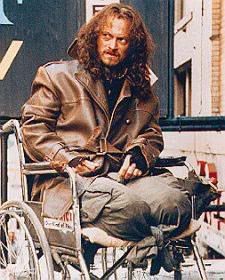 Me - Forrest, Don't you realize there are still four games to go and KC still has to play the dreaded Chargers?
Forrest - "I'm not a smart man; But, I know what love is" ... and I love the Chiefs chances.
Me - Forrest, It is not a done deal. If we lose this Sunday, the Bolts will be only game back with a very easy remaining schedule. They will likely sweep and we will have to sweep as well to stay ahead and to avoid tie-breakers. The final game against Oakland will also be big if not huge; Particularly if they also continue to win. Raiders would still own the tie-breaker against us.
Forrest - I don't think we have to worry about the Raiders; They have to play the Jags, Denver and Colts. Besides, They tend to fold like an old army cot when under pressure. Ya know, It's like my Mama said " Stupid is as stupid does".
Me - Well, we do have to worry about the Bolts. They have a great Offense. Rivers has passed for 291yards / game with a 102 QB rating. At the same time, they rush for 105 yards / game. They have no weakness. On Defense, they are the only AFC team that hold opponents to under 200 yards passing and under 100 yards rushing. They have been leaders on both sides of the ball all year; And, In spite of injuries they get it done. They had a bump in the road with Raiders. They had trouble being physical in the trenches. The Raiders caved in the pocket and Rivers could not step up. Can our Front do that? We sure could not stop Moreno last week on the ground. We had to get fancy with Corner and Safety Blitzes to get pressure on Orten. Rivers is better at evading Blitzes than Orten. Rivers does have a talent for buying time and hitting the open man in most Blitz situations.
Forrest - I don't know. Our front seven is "like a box of chocolates. You never know what your gonna get". I just know we will beat the Chargers. Besides, we are only about 20 yards behind them on Total Offense and about 50 yards behind them on Total Defense. Cassel is no slouch, he has a 98.4 QB rating ya know. The Chiefs make fewer mistakes too. Ya know, .... things like interceptions and Penalties. I like our chances. We will win.
Me - The Chargers D - line can be pushed back by a very physical, pile driving, road grader style of an attack. Can we do as well with our Zone-Blocking Scheme? It may take a miracle; "Have you found Jesus yet, Gump?"
Forrest - "I didn't know I was s'posed to be lookin for him, sir." But, we did beat them in KC. Did ya notice that... when it rained,... it only rained when the Chargers had the ball?
Me - Forrest, This is not a done deal, The Chiefs are 8-4 but have not faced tough competition. Only one team on our entire schedule has a winning record as of now. Granted, that was Jacksonville who we did beat. NE is 10-2, NY is 9-3, Pittsburgh is 9-3 and Baltimore is 8-4. They have all played a much tougher schedule. You have to admit that our record to this point is great and a lot better than most of us dreamed of. At the same time it is somewhat reflective of a soft slate of games.
Forrest - All I know is, only three team in AFC have better records than the Chiefs. Only six teams in all of football have better records. I know that "s--t happens"; But, the Chiefs have a better chance of getting to Super Bowl now than most other teams. So, why not dream? ........... "That's all I gotta say about that."
Me - Forrest, what are you going to say when someone says, "Congratulations", the Chiefs are in the play offs; How do you feel?"
Forrest - ........ "I gotta pee" just thinkin about that.......
This is a FanPost and does not necessarily reflect the views of Arrowhead Pride's writers or editors. It does reflect the views of this particular fan though, which is as important as the views of Arrowhead Pride writers or editors.