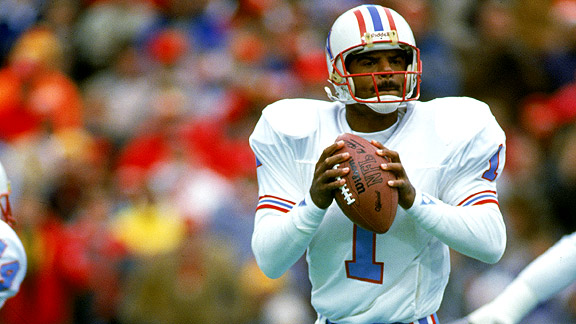 From the FanPosts - Woodman
The Chiefs haven't had a home game blacked out for local TV in just over nineteen years.  On that day - December 16, 1990 - Warren Moon of the Houston Oilers passed for 527 yards in a 27-10 victory over the Chiefs in the final regular season loss of Marty Shottenheimer's second season as head coach.
Throughout NFL history, only Norm Van Brocklin ever passed for more yards in a game.  He gained 554 yards through the air for Los Angeles way back in 1951.
Until just a couple of weeks ago, I wasn't even aware that the 1990 game hadn't been seen on local TV.  There's a good reason: I was there.  It was the first game I ever saw at Arrowhead - and for me, it marked a new beginning in a long love affair with the Chiefs.
History repeated itself on Sunday.  I was there once again as a Chiefs loss was blacked out to local television.  And yet another player came tantalizingly within reach of an all-time NFL record, as the Browns' Jerome Harrison rushed for 286 yards - and three touchdowns - in a 41-34 defeat of the Chiefs.
It hasn't been nearly as long since anybody rushed for that many yards in an NFL game.  The Vikings' Adrian Peterson is the current record holder, having gained 296 yards against the Chargers in 2007.  The Ravens' Jamal Lewis ran for 295 against the Browns in 2003.  But now Harrison - in his fourth NFL season - holds the third spot.
Unfortunately… the similarities end there.
You see… on the day he set the record, Peterson was in the midst of an unbelievable rookie season in which he gained 1,341 yards.  And the Chargers he ran over that day in 2007 were by no means a bad team against the run; that season, San Diego ranked 17th in rushing defense.
But against the Chiefs, Harrison was only starting his fifth game of the season - and before running roughshod over the Chiefs defense, he had gained only 301 yards in 88 carries, for an average of 3.4 yards an attempt.  Against the Chiefs, he averaged 8.4 yards.
And while he came up just short of Peterson's league record, he did, of course, demolish the Browns' franchise record.  You may remember the previous record holder from a lot of bad movies in the 1970s and beyond - although most NFL fans would probably agree he was fabulous as Robert Jefferson in The Dirty Dozen and Captain Anders in Ice Station Zebra  But as a football player, Hall of Famer Jim Brown had no equal.
As it turns out, Brown - a class act who is always mindful of his obligations to his former NFL team - was on hand at Arrowhead as Harrison broke his franchise record of 237 yards.  Another ex-Brown was there, too.  Traded from the Steelers in 1959, he was never able to get past quarterback Bobby Layne in the lineup, and as the Browns' backup quarterback, was watching from the sidelines when Brown set the record in 1961 - only the season before he would land with the AFL's Dallas Texans.
Yep.  Len Dawson.
You see where I'm heading here?  The Chiefs aren't just bad.  They're historically bad.
Please don't misunderstand.  I know perfectly well that if just half of the eight or nine passes dropped by Kansas City receivers had been caught, the Chiefs could have won this game.  Easily.
I'm well aware that if the Chiefs could have found a way to stop the Browns' kickoff returner Josh Cribbs from returning just one of his two kickoff returns for touchdowns, they could have won this game.  Easily.
And while I've learned that criticizing Todd Haley's game management tends to strike a raw nerve among Chiefs fans, I also have to say that if he had managed to control his penchant for throwing the long ball in the Chiefs' next to last drive - leaving Cleveland entirely too much time to mount a game-winning drive after the Chiefs' final score - that Kansas City could have won this game.  Easily.
But the consistent, overwhelming Achilles heel of the Kansas City Chiefs isn't Matt Cassel (who, after a couple of terrible games, played quite well on Sunday) receivers who can't catch, special teams players who can't tackle, or even the head coach/offensive coordinator/quarterback coach who apparently hasn't noticed he isn't still coaching Kurt Warner, Larry Fitzgerald, Anquan Boldin et. al.
It's defense.
Specifically, it is run defense.  Since the bye week, the Chiefs have given up an average of 194 yards rushing per game.  In the last three games, they've given up a truly astonishing average of 265 yards rushing per game.
Here's the deal: it doesn't matter how many turnovers you can force, how many sacks you can get, or how many yards your quarterback can gain.  If you give up that kind of rushing yardage in the NFL, you're going to lose the vast majority of your games.
Furthermore, if a 2-10 team (one that's passed for 66 yards - sixty-six yards, for God's sake - in the whole game!) gets the ball on their own 35 with 2:20 remaining, runs five running plays (one of them a quarterback bootleg for 24 yards) and scores a touchdown - and before scoring, runs laterally at the goal line to take more time off the clock, still leaving you 44 seconds for your final drive - then something isn't just wrong.
Something is historically wrong.
Bill Parcells was famously quoted as saying that you are what your record says you are.  In this particular case, don't believe it for a second.  Even though they are one game better than last season, this team is worse than the 2-14 Chiefs that Scott Pioli and Todd Haley exploded in the offseason.
Make no mistake, though: there are bright spots on this team.  Jamaal Charles is certainly one of them.  If his play in Sunday's game is any indication, Matt Cassel very well might be another.  I'm liking what I see from Kansas City's young cornerbacks.  Mike Richardson had a huge game on Sunday.  The much-maligned offensive line (even without two starters) gave up only one sack, allowed their quarterback time to throw, and opened enough holes for Charles to have a career day.  And yes… I have been liberal in my criticism of Todd Haley - the man who is busier than a one-armed paperhanger in a shiny new Olathe subdivision - but he may yet turn out to be the right man to lead the Chiefs to the promised land.
But let's not kid ourselves.  Right now, this is a very bad team.