All this that everyone is feeling about their favorite team - The Kansas City Chiefs - leads me to ponder - why? Why are we feeling this way every Sunday after a game? Why has this been going on for 2 years? How could the team loose 9 consecutive home games?
Many of us blame the lack of talent, some say the players aren't playing up to expectations, a few wants the head coach fired. We are going through all of this emotions as a result of the constant disappointment and the lack of positive output when it matters - Gameday!  A lot have been put into our minds, and our expectations of this organization. This continues to happen because we are somewhat led to believe things have changed or is changing for the better. All of this starts from the top. The organization puts out a great web site, it keeps all the fans informed and we all get insights about the team right when it happens. With Arrowhead Pride, we have enormous amount of info that we would not have had in years prior. This led me to be believe the KC Chiefs Football Club is very good at One Thing - thats PR!  The public relations and marketing team of the KC Chiefs is awesome. It gets all of us excited almost every off-season, every training camp but only to have the actual events during the season let us down. So why aren't things getting better? I can't pinpoint it to one thing or another but I know all of us die-hard fans here share the same passion of wanting to see the red and gold regain the success of the 90's.
So, I have come to the conclusion that we desert Arrowhead. It's time to let the organization know we're paying for a product that we expect to feel good about - something that we can enjoy when we attend the games. We want to say this player or that player is our favorite Chief without having to defend him over another fans perception of our own favorite. How can this organization continue to market us a great product only to have nothing to show for it? Is this really the result of amazing marketing and PR efforts? or simply the organizations ploy in making more and more money as long as they can get fans believing and thus selling out season tickets, filling up luxury boxes.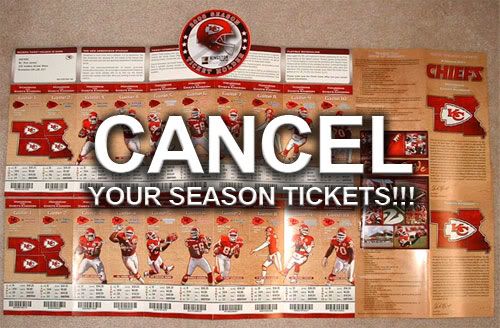 You go out and buy a product because a great salesman sold you at the store and made you believe its worth every penny spend. When you take it home, it causes pain and chaos cuz it doesn't perform the way it was suppose to. It makes you feel like you were a victim of a very good sales presentation by the salesman. The next time you run into this same salesman and he makes another attempt to push an upgraded version of the product, would you buy again? A lot of KC fans did, we continue to renew season tickets, based on the success of this organization in the past? not now. During that span, how many times did KC draft in the top 5? We have been in the bottom of all of NFL for 2 consecutive years. Those spots use to belong to the likes of Bengals, Jets, Cardinals etc.
This is a pattern here. A pattern that's not very healthy. We as fans have a choice - start asking ourselves - What have they done for me lately??? A lot in the offseason, a lot in training camp but nothing in the regular season and nothing in January and YET we are blinded by paying for what was sold to us in the off-season - and led to believe that the product will not disappoint when regular season swings around.
Why do we  buy-in into the hype and pay time after time only to have our hopes dwindle? So many fans are mad? Did someone put a gun in their head to purchase tickets? Show the organization that we want a good product not just great marketing. Signing the most high profile GM in Pioli was great marketing. He didn't come in and said we're REBUILDING - he claimed we want to win NOW thus we didn't draft a rookie QB or wait for 2010 draft to find a high profile rookie QB. We traded for a franchise QB and paid him millions (season ticket money from fans), he brought in veteran players Engram, Vrabel etc. because he is not rebuilding, he is going to win RIGHT NOW. Based on that fact, we are expecting better than 1-6, better than getting blown out at home by a division foe, better than losing to a division foe like OAK at HOME (where the QB completed 7 of 24 passes but engineered a winning drive when it mattered.)
I am saying that this season is not only bad, its humiliating and outright pathetic. As bad as any  squad of the past was, we always competed against the Broncs, Raiders and Bolts. Just like during the Vermeil years when Oak was crappy, they'd played up to the rivalry and showed up. What happened today at home getting blown out by the Chargers is outright unacceptable. Jon Gruden puts it best " When I got to Oakland, the first thing I told the team was - if you can't even beat your own division foes - don't talk to me about post-season" and he added "how the heck can you change the culture when you loose to the Chiefs 12 consecutive games?" Now that made a permanent imprint in my mind. If Haley can't get the team to be ready and play at the highest level against a division foe, he is not our coach no matter what. If he can't beat the AFC West, he should not be around.
I come to this conclusion only to show you that only one person that can make that switch - Pioli. and Scott will only make that change if all of us fans let him know that we are not buying this crap any longer - vacate Arrowhead - let there be empty seats. Perhaps then, he will swallow his pride and drop that ego and fire a bad coach. As long as we buy into his - ploy, we will all continue to feel the pain every Sunday. If you second guess the point I'm trying to make here - make friend with a die-hard Cardinals or Bengals fan from the 90's. You'll see how making excuses for your HC and upper management will soon become a pattern that is downright impossible to turn around.